This is How We Reach Hundreds of Thousands. . .
IFPB Fall 2012 Delegation Participants in Action
March 30, 2013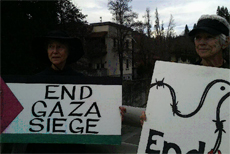 CLICK THE LINKS BELOW TO READ MORE ABOUT EACH OF IFPB'S FALL 2012 DELEGATIONS:
The Interfaith Peace-Builders family has been as busy as ever the past few months organizing media appearances, speaking events, protest actions, and other activities that show once again the importance of IFPB's noted Education and Advocacy Program.  

IFPB delegates were instrumental in the successful US speaking tour of Iyad Burnat, head of the Bil'in Village Popular Committee.  Iyad's events were packed to the gills all over the country during November, December, and January – and 2/3 of the events were organized by IFPB delegates!  Click here for a short clip of Iyad talking about his tour at an IFPB reception in DC.

During the first weekend of March IFPB's Grassroots Advocacy Training returned as a centerpiece of the Expose AIPAC mobilization, co-sponsored by CODEPINK, the US Campaign to End the Israeli Occupation, and the Fellowship of Reconciliation.  Click here to check out media and follow-up actions from the event and click here for video of the mobilization actions.

The work continues, and this summer IFPB's partners are providing a great opportunity for student leaders to gain valuable skills and experience.  Several IFPB delegates are working with the American Friends Service Committee and Jewish Voice for Peace to organize the Summer BDS Institute for Student Leaders from July 28 to August 1, 2013 in Upstate New York.  Click here for more information.

A core feature of IFPB's Education and Advocacy Program is media advocacy, training and supporting generations of IFPB delegates.  As a result, many delegates have logged media appearances in recent months including feature articles in The Mennonite, Foreign Services Journal, the Electronic Intifada,  the Saint Louis Beacon, and more.
The following is a partial list of media appearances, events, and actions organized by members of Interfaith Peace-Builders fall 2012 delegations:
---
The Civil and Human Rights Delegation
Sponsored by the Dorothy Cotton Institute

Members of the Civil and Human Rights Delegation brought a wealth of knowledge and experience to Palestine/Israel issues.  Much of their energy has been applied to academic pursuits and long term projects (indeed, the delegation continues to meet monthly and plan long-term projects).  These articles and events represent a sample of the work that has occurred since the delegation returned:






The African Heritage Delegation

One of the major strengths of the group of delegates that joined IFPB's 2nd African Heritage Delegation is their work in other important social movements in the United States.  Delegates have brought their delegation experience to bear in immigrant and workers rights movements, faith-based organizing, youth justice work, and poor people's campaigns (to name a few).  This work will continue for many years to come.  Here are a few of the recent activities initiated by members of the African Heritage Delegation:

The African Heritage Delegation Statement was released for Black History Month in February and quickly made the rounds.  It was republished in the newsletter of the Palestinian Academic and Cultural Boycott Initiative, among other venues. (internet)
Members of the delegation also initiated the powerful Thank You Letter to Stevie Wonder that made waves following the singer's refusal to perform at a fundraiser for the Israeli Defense Forces. (internet)
Aaron Dixon has brought his experience in Palestine to audiences at his tour promoting his new book "My People Are Rising: Memoir of a Black Panther Party Captain".  Aaron has spoke around the country and appeared in numerous radio, television, and newspaper interviews, including this interview on Los Angeles' KPFK radio.  Purchase Aaron's book here. (video)
Among Aaron Dixon's speaking events was an important event on March 16 in New York City called "Building Solidarity across Black, Native American, and Palestinian Struggles."  Click here to listen to a recording of the event. (audio)
Aaron Dixon also spoke in Seattle with IFPB Board member and delegate Gerald Lenoir, and 2011 African Heritage delegate Jesse Hagopian.  Check out the video of the event. (video)
IFPB Board Member and delegation co-leader, Darryl Jordan, attended and spoke at the World Social Forum meetings on Palestine held in Brazil during the last weeks of November. (campaign)
Gilokwesi Logan has spoke numerous times in and around Chicago and Evanston, Illinois.  He is also engaged in a long-term book project based on the experiences of the members of the 2012 African Heritage Delegation.
Reverend Joi Orr has spoken several times in and around Washington, DC, including a powerful February event where she joined IFPB Board Member and delegate Hanan Idilbi to discuss experiences of oppression among both African Americans and Palestinians.
Jennifer Lee has spoken publicly and published several reports on her delegation experience in Santa Clara, California, including this interview in the Santa Clara Weekly. (newspaper)
Jennifer Lee was also interviewed on the KPFA radio evening news (broadcast throughout California's Bay Area) on November 10.  Click here to listen to that interview. (radio)
In Ohio, Dr. Martha Banks and Rev. Stephanie Lee have held numerous speaking engagements and continue to organize and advocate for peace and justice in Palestine/Israel.  They have spoke together at Holy Trinity Methodist Church in Akron, Centenary United Methodist Church in Akron, Akron University, Mogadore United Methodist Church, and the Church of the Redeemer in Cleveland Heights.



The Olive Harvest Delegation

Members of IFPB's 2012 Olive Harvest Delegation returned shortly before the US elections and wasted little time in engaging with the work on the ground.


Father Sean Mc Manus returned from the IFPB delegation to initiate the Holy Land Principles, a campaign to promote corporate accountability among US companies in Israel/Palestine. (campaign)

Father Mc Manus published a powerful op/ed "Like Ireland, Only a Lot Worse," which appeared in the Irish Echo on January 9.  Click here to read the op/ed.  (newspaper)
Among other events, Father Mc Manus spoke in DC at the William Penn House on February 10.Potluck and at the Goethe Institut during the social event and fundraiser following the Grassroots Advocacy Training on March 2. (presentation)
Karen Peterson's work in New York State has focused on the United Methodist Church, where she has presented to meetings of the United Methodist Women, the UMC Annual Conference, and the UMC Task Force on Peace and Justice in Palestine/Israel.  Karen is also engaged with UMC Kairos Response.  (campaign)
IFPB Board Member Hanan Idilbi traveled with the delegation and has spoken several times and has booked an upcoming presentation on Saturday, April 27 for the Washington DC Chapter of Friends of Sabeel North America's Second Annual Spring Workshop entitled "Palestinians in DC Speak to the Churches" at Wesley Theological Seminary.  (presentation)
Austin Branion joined a panel discussion titled "Apartheid: Wrong for South Africans, Wrong for Palestinians" at Georgetown University on March 27.  The panel also included IFPB delegate Felicia Eaves. (presentation)
Austin Branion was also an organizer for the "No Blank Check for Israel Rally" held on Inauguration Weekend in Washington, DC. (rally)
Brian Fry and Wendy Hartley have spoken several times in and around Nevada City, California.  They were also featured in this article in the Nevada City Union newspaper.  (newspaper)
George Meek was featured in this article in the Arlington Sun Gazette. (newspaper)
Arlene Tolopko joined IFPB, CODEPINK, the Fellowship of Reconciliation, and the US Campaign to End the Israeli Occupation at the Grassroots Advocacy Training and Expose AIPAC mobilization.  She has also presented in Massachusetts, including a in front of a High School class. (presentation)


Several Delegates Joined both the Olive Harvest Delegation and the Delegation to the Gaza Strip.  Among them:

Darlene Jones-Owens has worked with Friends of Tent of Nations North America to promote the work of Tent of Nations.
Gary Doupe published this op/ed in the Binghamton Press and Sun. (newspaper)
Gary Doupe has also published in the Syracuse Peace Council's newsletter, and presented at many churches, senior centers, and other venues in upstate New York and southern Vermont.  (presentations)
Marsha Carlton published this letter to the editor in the Davis Enterprise in Davis, California (newspaper)
Marsha Carlton has also been active in local campaign's, including this campaign to force Veolia from bidding on a water contract in Davis, California (campaign)
Wendy Hartley was interviewed on KVMR radio Sacramento and the Sierra Foothills, California - the interview starts at the 7 minute mark  (radio)
Wendy Hartley hosted Iyad Burnat in Nevada City and Grass Valley, California, during which time she pitched this interview to the Union newspaper (newspaper)
Wendy Hartley has spoken herself on numerous occasions, including at the Unitarian Universalist Community of the Mountains and the Grass Valley Friends Meeting. (presentations)
Wendy Hartley also organizes weekly vigils as Women and Men in Black and she helps coordinate a local campaign as part of the Middle East Children's Alliance Maia Project Coalition. (campaign)



Delegation to the Gaza Strip

Interfaith Peace-Builders sent our first delegation to the Gaza Strip since 2003.  The members of the delegation who were privileged to join the trip have worked vociferously to share the experience and tell the story of those they met.


Cathy Sultan was interviewed on WQOW in Eau Claire, Wisconsin (tv)

Cathy Sultan also published this op/ed in the Eau Claire Leader Telegram. (newspaper)

Cindy and Craig Corrie were interviewed by Rev. Jesse Jackson on Keep Hope Alive Radio. (radio)

Cindy and Craig Corrie were interviewed on Between the Lines, a nationally syndicated radio program (radio)

Cindy and Craig Corrie were interviewed on KPFK's "Sojourner Truth Radio" in Los Angeles, California (radio)

Cindy and Craig Corrie were interviewed for this article in MyNorthwest.com. (newspaper)

Cindy and Craig Corrie were featured on WPKN radio's "Counterpoint" in Connecticut (radio)

Cindy and Craig Corrie were interviewed in the Street Roots Newspaper, Portland's homeless publication (newspaper)

Craig Corrie published this post on the Electronic Intifada online news-service (online)

Cindy and Craig Corrie have presented several times since the delegation returned, including a talk at Bridgewater College in Bridgewater, Virginia where a student production of the play My Name is Rachel Corrie played.  They also hosted a series of events on March 15 and 16 in Olympia, Washington to mark the tenth anniversary of the death of their daughter, Rachel Corrie.  Click here to watch Craig and Cindy's video message. (video)

Craig Corrie published this op/ed in The Hill newspaper on the anniversary of Rachel's death. (newspaper)

Cindy Corrie was featured on Democracy Now on March 18, to mark the anniversary of Rachel's death. (radio)

Sonja Wentz spoke in Olympia, Washington on November 28, with a panel of experts discussing Israel's Permanent War on Gaza (presentation)

Donna Nassor produced a special Voices of Palestine show for the "Kathleen Wells Show" on KCAA in Southern California (radio)

Donna Nassor appeared on PressTV for this interview (tv)

Donna Nassor produced this episode of the "Kathleen Wells Show" on KCAA in Southern California (radio)

Tsela Barr and Michelle Bahl wrote this op/ed in the Capitol Times of Madison, Wisconsin which has helped them line up several local speaking events (newspaper)

Tsela Barr and Michelle Bahl were twice interviewed on WORT radio in Madison, Wisconsin. Click here for the first interview and here for the second interview. (radio)

Tsela Barr was interviewed on WORT radio in Madison, Wisconsin for a third time - a different show (radio)

Rich Forer appeared on several radio and TV shows, including SPFI radio online, PressTV international, Blogtalk radio online, and the One Radio Network, online (radio).

Rich Forer also published this in-depth interview in the Breathing Forgiveness blog (online)

Ralph and Emily McCoy have given 16 presentations to around 300 people to faith based groups, community gatherings and academic groups in and around their hometown in South Carolina. (presentations)

Joyce Guinn published this powerful op/ed in the Milwaukee Journal Sentinel (newspaper)

Joyce Guinn has also organized events and presentations in Milwaukee, and is organizing a citizen's action campaign around aid to Israel. to stop aid to Israel until the occupation ends. (campaign)


This is a partial list - we are still collecting more interviews, op/eds and other media appearances.  IFPB delegates are also planning speaking events around the country, reaching even more people with their powerful witness. 
We need your support to continue these efforts.  We ask because it's true. 
Please donate today.

---

SUPPORT INTERFAITH PEACE-BUILDERS!

Nothing better prepares activists to work on the conflict than eyewitness experience. Your donation will further the education and engagement of new participants and build a larger, more diverse movement! Click here to donate online!


---

TRAVEL TO ISRAEL/PALESTINE WITH INTERFAITH PEACE-BUILDERS!
Your participation as an eyewitness will enrich your understanding of the conflict and empower your work back in the United States! Click here for information on upcoming delegations.