Who We Meet
The People and Organizations That Make An IFPB Delegation Unique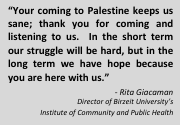 Interfaith Peace-Builders' Delegation Program presents alternative images of the Israeli-Palestinian conflict; images that reach deeper and give a more complete picture. IFPB privileges diverse voices that are not often heard in the United States. Voices of Israelis and Palestinians engaged in nonviolent resistance to an illegal occupation; images of cooperation, of healing, of caring, of hope and possibility. Images such as these help break the paralysis and inform us about the possibilities for a real peace. Participants on Interfaith Peace-Builders delegations return to North America energized and transformed.
Each IFPB delegation itinerary is unique; however many themes are regular features of our program. A typical delegation will feature meetings with some of the following people and organizations.
Nonviolent Movements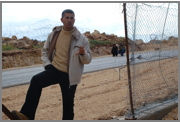 To learn that Israelis and Palestinians are resisting the occupation nonviolently goes against many of our preconceptions. We encourage people to look beyond their presuppositions about the conventional uses of nonviolence and see both new realities and new possibilities. As participants on IFPB delegations discover, by observing and listening with an open mind, nonviolent action by Israelis and Palestinians is widespread, creative, and often effective.
Bil'in Village Popular Committee
Nabi Saleh Village Popular Committee
Youth Against Settlements
Wi'am Palestinian Conflict Resolution Center

Other Voice (Sderot)
Women in Black
Tent of Nations
Holy Land Trust
Women's Leadership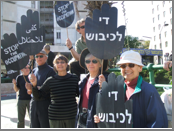 In many ways, women lead the peace movement in Israel/Palestine. Women organize their communities, hold together families, and lead national organizations. No examination of the prospects for peace is complete without understanding the work of women and women's movements. Jerusalem Center for Women Isha L'Isha New Profile Women in Black The Jerusalem Center for Women Women's Center for Legal Aid and Counseling Palestinian Women's Collectives
Jerusalem Center for Women
Isha L'Isha
New Profile
The Coalition of Women for Peace

Women's Center for Legal Aid and Counseling
Palestinian Women's Collectives
Analysis and Advocacy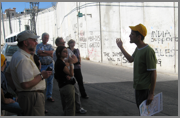 There is no replacement for the analysis offered by those Israelis and Palestinians living the conflict every day. Interfaith Peace-Builders delegations meet with a wide variety of non-governmental organizations who offer direct and insightful analyses often paired with a strong call for action and advocacy. Such meetings provide delegates with analysis and access to important information for their work at home in their own communities.
Mossawa: Center for the Rights of the Arab Citizens of Israel
B'Tselem: Israeli Information Center for Human Rights in the Occupied Territories
Grassroots AlQuds
BADIL: Palestinian Center for Residency and Refugee Rights
Adalah: The Legal Center for Arab Minority Rights in Israel

Israeli Committee Against Home Demolitions
Alternative Information Center
Palestinian Campaign for the Academic and Cultural Boycott of Israel
Boycott National Committee
United Nations Office for the Coordination of Humanitarian Affairs
Palestinian Hydrology Group
Alternative Israeli Voices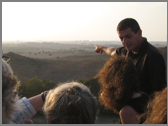 Interfaith Peace-Builders seeks equity between Israeli and Palestinian voices on our delegations, distinguishing the IFPB experience from other delegation programs. IFPB spends more time in Israeli communities than other peace-focused delegation programs and more time in Palestinian communities than any Israel-focused programs. In doing so, we include the important voices of Israelis who demand peace and justice for Palestinians.
Zochrot
Rabbis for Human Rights
Physicians for Human Rights

Hebrew University Students
Gvanim Association (Sderot)
Diversity and Nuance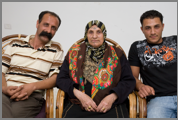 Israeli and Palestinian society is very diverse. Interfaith Peace-Builders makes it our priority to give delegation participants an understanding of this diversity. As a result, IFPB delegates return to their communities with a deeper and more nuanced understanding of the conflict and its multiple dimensions. Such a nuanced understanding, aids their activism and engagement with the issue. A typical IFPB delegation features programming on some of the following issues.
Palestinian African Community
Israeli Black Panther Party
Members of Israeli settlements in the West Bank
The Association for Ethiopian Jews in Israel
Bedouin communities in Israel and the West Bank

Palestinian Refugees and Internally Displaced Persons
The Palestinian Fair Trade Association and Farmer's Collectives
Druze communities in the Golan Heights
Yad Vashem: The Holocaust Martyrs' and Heroes' Remembrance Authority
Click here to goto our PDF fliers page to download the above information in flyer format.
Click here to learn more about what makes an IFPB delegation unique.