May 2017 Delegation
INCARCERATION, DETENTION, & POLITICAL PRISONERS
May 13 - 26, 2017
Co-Sponsored with CODEPINK and Defense for Children International - Palestine

_______________________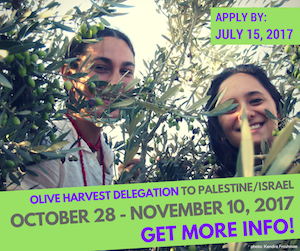 This 31 person delegation explores Palestinian and Israeli efforts to achieve peace with justice and delves into issues of detention and incarceration, the Israeli military court system, and political prisoners.

Follow the delegation to read delegate reflections on these, and other issues, reports from meetings, and experiences with Palestinians and Israelis. You'll also receive access to exclusive photo and video content from the ground.

This delegation is IFPB's 61st, successfully exposing nearly 1200 people to the daily realities facing Palestinians in their quest for justice.
The delegation is sponsored by Interfaith Peace-Builders (IFPB) , CODEPINK: Women for Peace, and Defense for Children International - Palestine.

Interfaith Peace-Builders believes in the power of eye-witness experience and transformation. Given the opportunity to speak directly with Palestinians and Israelis, delegates return to the United States better informed, more energized, and with a deeper understanding of the possibilities for true justice in the Middle East.
Upon their return to the United States, delegates share their experiences with the public, the media, and their political representatives.
Use the menu at right to read Trip Reflections and view photos and videos from the delegation.








Photos from the May 2017 Delegation on
Incarceration, Detention, and Political Prisoners

View more photos and videos from this delegation on Instagram
Media interested in interviewing the participants and groups wanting information about speaking engagements should contact Interfaith Peace-Builders at media[a]ifpb.org or 415.240.4607.