< Reflection One: Signs of Grief, Signs of Resistance >
May 2017 Delegation | Incarceration, Detention, and Political Prisoners


_______________________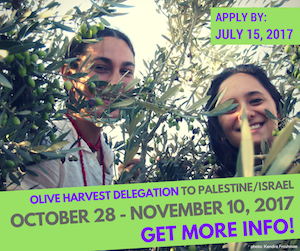 Overview: This first collection of reflections from the delegation begins with meditations on signs and signposts by Kate S. and Bridget J. Callie W. takes it a step further, meditating on the complex set of restrictions controlling Palestinian movement. William R.'s insightful contribution challenges us to see the intersections between what is happening in Palestine/Israel and our own communities. Emma J.'s poem and video add to that complex understanding of innocence and complicity, while Alex M/ reflects on Israel's wall and it's purpose.
A personal experience with Israeli military occupation is told in a series of tweets by delegate @FalafelDad; Sarah shares revelations on the separate and unequal systems of justice Israel operates in the territory it controls. Lastly, Roberto T.C.'s short and pointed reflection reminds us that the reality in Palestine/Israel is not the same as what we see on TV.
---
Signposts  | Kate S.
I feel full to the top of my head with information, impressions and emotions. Despite my previous awareness of the situation of the Palestinian people, I have been stunned again and again by the awful reality of the effects of the occupation on their lives.
Today, our guide pointed out on the road that only Israeli towns and settlements are on the signposts. Our guide in Jerusalem, Fairouz, showed us apparently empty spaces on the street map of Jerusalem where Palestinians live.
Children learn from maps which don't show the green line, and place names are changed from Arabic to Hebrew. Israel is swallowing Palestine and does not want to leave a trace behind.


---
Jericho Road Reflection  | Bridget J.

Our first up close encounter with the "separation wall," euphemistically called the "security fence" by Israel, or "the exclusion and annexation wall" by our Palestinian activist guide, was along the Jericho Road in East Jerusalem.
I'm afraid our U.S. President will be encouraged in his campaign for a border wall if he sees this massive construction on his upcoming visit. After all, he doesn't like to be out done, especially in matters of size. Also, Israel has already begun exporting other security" techniques from its military to our police forces.

As I stood on a sidewalk on one side of the road, thinking about how the children of the family on the side I was on could no longer meet up to play with the children whose house was just beyond the wall, I noticed the street sign.
All the street signs in East Jerusalem are written in three languages: Hebrew, Arabic, and English. I noticed that the Arabic had been covered up with black spray paint.
Though the separation wall had large patches of lavender paint, obviously rolled over to cover up graffiti, this didn't seem to be the work of any "clean up" crew, especially since graffiti in a similar black paint was on the small retaining wall across from the Wall.
I wondered why this act of graffiti on a street sign and thought perhaps it symbolized that with the Separation Wall, the real Jericho Road no longer existed. The other explanation could be that the term used in Arabic was not the term the Palestinians preferred and so was being blacked out.
As is the case with any colonial venture, names get changed, just as Denali became Mt. McKinley in Alaska. Our group had already heard of instances of the renaming of Palestinian villages by Israel and the same might be done with streets.

Though the Wall is an intimidating structure and the voices of resistance painted on the wall had been covered up for the most part, I saw one voice of graffiti that seemed to emerge from the wall itself. The words appeared very faint, probably because an attempt to power wash it out had not been completely effective.
Somehow the words were faint enough to have escaped the blanket of lavender cover up. Such is the Palestinian resistance, persisting despite attempts to subdue it, even if through subtle acts of defiance or in indirect ways.
The message of the graffiti: "You Gotta Keep Your Head Up."
I love the double meaning: "Pay attention! Be alert!" and "Be Proud to be Palestinian." It sums up what I have seen so far to be the Palestinian perspective.
---
Overwhelmed. Where am I?  | Callie W.
We flew into the airport in Tel Aviv May 15, then drove south east to our hotel in east Jerusalem. Only Israelis, in their cars with yellow license plates, can use this road, Highway 443. Palestinians, whose cars are identified by green and white plates, may not. Two days later driving towards Tel Aviv and Yafa we see West Jerusalem to our left - a developed city. And to our right, in Palestinian East Jerusalem, we see a stark 6-7 story building - an Israeli settlement, off limits to Palestinians - evidence of Israel's gradual encroachment into Palestinian territory since the 1967 Six-Day War
Another day on our way north to Ramallah (in the West Bank) the Israeli highway we are on cuts through a Palestinian town, separating it into two parts. One can go from one half of the town to the other only by using a road under the highway. The names of all the Israeli towns we pass are posted. The Palestinian towns are not.
Nearby an Israeli military base has been established just to the east of a Palestinian village, blocking expansion of the village. Today going south to the South Hebron Hills it is unbelievable to see the number and size of settlements built by Israel on Palestinian land. They stretch across acres of land, as do the walls surrounding them, and the gates - ready to close the road at any moment.
Our guide explained the division of the occupied West Bank. Areas: A, under Palestinian administrative and security control; B, under Palestinian administrative control but Israeli security control; C, the largest area - 61% of the land - under Israeli administrative and security control. In Area C, Israel has built settlements, highways and walls on Palestinian land. Highways open only to Israelis. Walls blocking Palestinians wanting to visit Jerusalem or other cities, or drive to the airport, or take their kids to the shore on the Mediterranean Sea.
Palestinians intuitively understand if and when they are about to enter a prohibited area. They know it is exceedingly difficult to get a building permit, so take the risk of building without one even knowing that the house may be demolished by Israel on short notice. They know where they are.
But me? No! Transiting through Frankfurt my Verizon message service greeted me with a "Welcome to Germany!" Entering Tel Aviv I saw "Welcome to Israel"! But entering the West Bank the day we drove to Ramallah the message read "Welcome to Jordan!"
What? Is Palestine disappearing?
---
Beyond Displacement  | William R.
As our delegation traveled around East Jerusalem, my heart repeatedly sank with grief.
My heart sank with grief as we learned of Israel's repeated expulsions of the Palestinian population from their homes and neighborhoods in and around Jerusalem, to make space for new Jewish neighborhoods and settlements beyond the internationally recognized Green Line. Israel, we learned, has driven Palestinian residents out of their communities through a meticulous combination of outright house demolitions, through denial of building permits (94% of Palestinian applications for building permits in Jerusalem are rejected), and by positioning the wall in such a way as to make travel within the Jerusalem area so arduous, costly, time-consuming for Palestinians that they will simply choose to move east of the wall and out of the city.
We learned that Israel uses intimidation and criminalization of non-violent protest to chill Palestinians into silence (unsuccessfully, of course).
We learned that Israel media outlets misrepresent and/or simply do not cover the Palestinian people's constant struggle against these crimes, ensuring most of the Israeli population remains pitted against them.
I felt my heart sinking with grief for the Palestinian residents and former residents of this land, who endure and have endured such injustice for so long. However, I realized that the grief I felt stemmed also from my recognition that the horrifying reality I saw around me was, in so many ways, not so different from the conditions that exist right now in predominantly Black and Brown communities across America.
Boston Massachusetts, my hometown, is one of the most racially segregated cities in the United States. My father, who himself lived in Boston back in the 1980s, once told me that a Bostonian real estate agent asked him directly and without remorse "do you want me to show your property to Black people." I do not know to what extent such blatant and unapologetic racism continues today, in conversations amongst Bostonian home buyers, sellers, leaders, and renters conducted behind closed doors.
I do know that the Boston Planning and Development Agency (BPDA) recently passed a rezoning plan, "Plan JP/ROX" (referring to the neighborhoods of Jamaica Plain and Roxbury) over the expressed wishes of the mostly Black and Brown community members who will be most impacted by the plan. Plan JP/ROX will increase the amount of land available for new residential properties in neighborhoods sought out by predominantly white, middle/upper class newcomers in what has become a red hot market for high-end homes. Plan JP/ROX's weak affordability requirements for new developments ensure that an enormous proportion of current Black and Brown residents who have lived in these neighborhoods for decades and who have put their hearts and souls into building up supportive communities will soon be priced out.
The actions Israel takes to displace Palestinians from their land are often (although not always) more direct and more extreme than those Americans use to displace Black and Brown people from their communities. (It should be emphasized, of course, that Israel's actions are by no means more extreme than America's dispossession of land tended by our own continents many indigenous nations.) It strikes me, however, that the intention and the impact that drives displacement is largely the same in Israel as in America: One group of people want land, so they drive those living on the land away.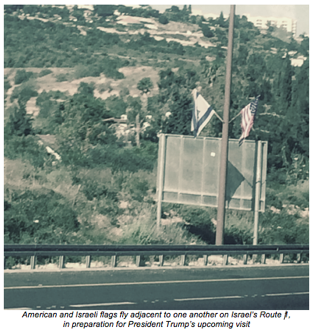 And the parallels between the United States and Israel go beyond displacement. From the intense patriotism conveyed by the Israeli flags staked into nearly every building and landmark imaginable, to the immediate, outspoken contempt an Israeli passerby expressed for our Palestinian tour guide. From the pervasive and ostentatious militarism on display by the IDF Soldiers and surveillance cameras that saturate the Old City, to the towering wall positioned well beyond the internationally recognized Green Line, dividing Palestinians from their own families, friends, and places of work.
In all of these respects, what I saw in Jerusalem struck me not because I have never seen anything like it before but because I have seen it my whole life.
I saw in Israel a grotesque hyperbole of my own country, a concaved reflection of what American is today, and a warning of what America may more fully become in the not-so distant future.
And I held in my mind throughout our tour that we, the American people, help pay for the Israeli military.
I held in my mind that we, the American people, send our police commissioners to Israel to learn how to carry out upon Americans the violence that the Israeli military has honed and refined through decades everyday operations on Palestinian land.
And I held in my mind that effective resistance is urgently important, even when the personal cost is high, because survival and justice is never guaranteed.
---
By-Pass Roads  | Emma J.
It is serene watching the steady flow of cars,
blurry blue and white squares moving slowly from a distance.
But the by-pass road means the people inside are probably Israeli settlers.
Reading, intellectually I understood this.
Seeing it in real life,
I wonder about the people inside the cars.
Who are they?
Do they think occupation is wrong but inure themselves to the Palestinians' pain?
Or, are they clueless, just going about their day?
Do they tell themselves they just have to do what they can to survive, lines blurred?
I wonder about the people inside the cars.
I wonder what kind of people they are and what their lives are like.
---
The Dispossession Wall  | Alex M.
The wall, like the Berlin Wall, is a wall of oppression.  Having seen it and how it weaves throughout the West Bank, it is clear that it does not provide security but instead oppression, intimidation, economic hardship and the related dependence on foreign aid, and land theft.  It is the Dispossession Wall.
With many sections separating Palestinians from Palestinians it clearly does not provide security but instead prevents Palestinians from reaching their farms, East Jerusalemites from reaching the newly defined smaller East Jerusalem and making travel much more difficult and significantly more time consuming to the point of being impractical. 
Since Palestinians and Israeli Jews are on both sides of the Wall how is it separating them if security were the issue?  Instead it is an obstacle for Palestinians. Israeli Jews have bypass routes to avoid it.
One objective is clear: the cutoff neighborhoods of East Jerusalem will help Israel meet its Jerusalem 2020 plan of reducing the Palestinian Arab population of East Jerusalem.
When will humanity return?
---
Praying at Al Aqsa  | @FalafelDad
EDITOR'S NOTE: Delegate @FalafelDad is a Palestinian-American university student. The following is his live recounting of an experience he had when he went to the Al Aqsa Mosque in Jerusalem to pray the traditional morning prayers.
All Muslims should be allowed to pray at the Al Aqsa Mosque - one of Islam's holiest sites - but, due to Israeli restrictions, many are not. As a United States citizen and a member of the delegation, @FalafelDad is in Jerusalem legally and praying at Al Aqsa is his right and privilege. This is what happened when he did so:

As I enter Al Aqsa mosque for Fajr prayer, I had my passport taken and was man-handled by Israeli forces stationed there. It's 4:30am.

— Ja Rulag (☭) (@FalafelDad) May 16, 2017
I am now being held outside Al Aqsa mosque by Israeli police upon asking for my passport back. They're only taking IDs from Arab youth.

— Ja Rulag (☭) (@FalafelDad) May 16, 2017
I am currently being held by Israeli police forces. Upon hearing of my birthplace in Jordan, the officer stepped on my foot and pushed me.

— Ja Rulag (☭) (@FalafelDad) May 16, 2017
Officer holding my passport demands I open my phone. I refuse, he threatens to strip search me in front of mosque goers. This is occupation.

— Ja Rulag (☭) (@FalafelDad) May 16, 2017
Israeli officer at entrance to Al Aqsa mosque stepped on my foot, told me to pass on dirty messages to the King of Jordan, and pushed me. pic.twitter.com/akgdxuCBfc

— Ja Rulag (☭) (@FalafelDad) May 16, 2017
Im an American citizen. The passport he held was an American passport, not a Jordanian one. I in no capacity care about the King of Jordan.

— Ja Rulag (☭) (@FalafelDad) May 16, 2017
This is small in comparison to what non-US citizen Arabs living here go through daily. This is just my first 12 hours here. I'm safe now.

— Ja Rulag (☭) (@FalafelDad) May 16, 2017
I was questioned by 4 Israeli officers all at once. 1 attacked me, the others threatened with arrest/humiliation if I didn't open my phone.

— Ja Rulag (☭) (@FalafelDad) May 16, 2017
I was brutalized both on my way to prayer, and then on my way back. In the second episode, 4 officers held me until witnesses were gone.

— Ja Rulag (☭) (@FalafelDad) May 16, 2017
---
Military Justice  | Sarah
I was surprised to learn that Israel has two separate court systems: the normal justice system for Israeli citizens and a military justice system for the Palestinian population under military occupation.
This was explained to us today by Alma Biblash, Executive Director of the Human Rights Defenders Fund.
Alma acknowledges that the regular Israeli justice system is flawed. It treats Jewish Israelis better than Palestinians with Israeli citizenship. There have also been a number of right-wing judicial appointments lately. However, the regular justice system meets all the criteria of a functioning judiciary in a democratic state.
The military justice system, according to Alma, is beyond flawed. In fact, "justice" is not the goal of the military justice system.
"Security" is. (Security again!)
Instead of being processed by professional police, defendants in the military justice system are processed by soldiers, young people with very little training and experience who are largely unaccountable for their conduct. Defendants are thus seen and treated as "enemies" rather than citizens with rights--and of course, they cannot vote or participate in the system in which their cases will be tried and their fates decided.
Alma said that 99% of defendants are found guilty.
She gave us an example of a demonstration which she attended with a Palestinian colleague. She said the two of them were arrested at the same time at this demonstration: she explained that the two of them were talking together under a tree when they were arrested. With her Israeli citizenship, she was released and back home within 24 hours. Her Palestinian colleague spent one year in detention.
---
No es lo Mismo Ver en TV  | Roberto T.C.
No es lo mismo ver en TV o leer lo que está ocurriendo. Observamos personalmente un control descomunal del pueblo Palestino por parte del Estado de Israel: cámaras por todos lados, muros altos que separan judíos de palestinos, puntos de revisión, militares que detienen autobús públicos para revisar a todos.
Destrucciones de viviendas, carreteras exclusivas para israelíes. Y mucho mas. Es muy deprimente la situación en el país más supuestamente democrático del Medio Oriente. Aunque el pueblo y nosotros NUNCA perdemos las esperanzas de que Palestina será libre. Como tampoco perdemos NUNCA la esperanza de que Puerto Rico será libre también.
(translate this with Google Translate)
---
We invite delegation participants to comment on and react to the experiences they have during our Israel/Palestine delegations in written Trip Reflections.

Individual delegates contribute pieces to these reflections. As such, reflections are not comprehensive accounts of every meeting or experience, but impressions of those things that most impact individuals. Submitted reflections may be edited for clarity or brevity. Trip reports do not necessarily reflect the views of Interfaith Peace-Builders, trip leaders, or delegation partner organizations. We hope you enjoy reading and we encourage you to share these reflections with others.
---

DONATE: Support IFPB in sending more trips


---

TRAVEL: Sign Up To Learn About Future Trips