< Reflection Two: The Promise of Youth VS Trump in Israel >
May 2017 Delegation | Incarceration, Detention, and Political Prisoners


_______________________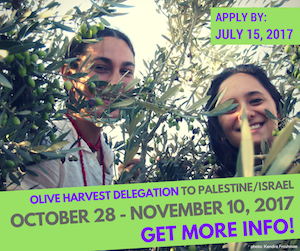 Overview: The second collection of reflections from the delegation focuses on the experience of Palestinian youth. Rosalind P. contrasts the delegations visit to a former youth detention facility with a conversation with Palestinian youth activists; a twitter story from @FalafelDad adds more context to the incarceration of Palestinian youth; Roberto T.C. writes of the experience of a Palestinian family faced with the demolition of their home; and Tod S.'s reflection rounds out the focus on youth.
Contrasts between Palestinian and Israeli experiences are another theme of this collection. Angela M. shares an experience in Israeli West Jerusalem. The visit of Donald Trump to Israel was met by major demonstrations in Palestinian areas and the twitter story by @huwaidaarraf, @baparkr, and @FalafelDad details a large demonstration in Ramallah. Reflections by Pat H., Michael S., and Sharon C. round out the collection.
---
On Mobility and Travel  | Rosalind P.
Privilege is immensely tied to mobility across boundaries and in public space; if anything has come home to me on this journey to Palestine it is this.
On our visit to the Al-Fara'a prison and Youth Center last Thursday, we had the pleasure (after hearing about the horrors of torture and detention from former prisoners) of meeting with a group of amazingly astute and mobilized young people. They are part of Defense for Children International - Palestine's youth program that engages high school students in monitoring and documenting Israeli abuses in Attuf village - kids who often have to walk long distances or ride donkeys to attend under-resourced schools.
One young man, maybe 13-14 years old, moved me deeply when he said, "We wish we could travel around and see our beautiful country." But of course, given the constraints of the Wall, restricted roads, checkpoints, permits, poverty, lack of transport, and above all the restrictions on all Palestinians living in Zone C - this area particularly declared a "military zone" and used indiscriminately as a firing practice area - such a wish remains aspirational - just a wish.
I first traveled by myself outside my home, to another state, at age 5. My parents put me on a train to go visit an aunt in Missouri, a person and place I'd never seen before. From there I traveled everywhere - to New York City at age 7, to national parks on family trips, to Canada, to a camp in California, to Israel at age 16 (another story, written elsewhere – see CONFRONTING ZIONISM: A COLLECTION OF PERSONAL STORIES, published by JVP-NYC). And in college to European countries, and a year in France, and in adulthood to maybe some two dozen countries in Asia, Africa and Latin America. Travel has been as embedded in my life as music, ideas, politics, and its availability almost taken for granted.
Now I am able to realize a "wish" of nearly 50 years - to come to Palestine and see this "beautiful country" and its brilliant, resilient people. But I must reckon with the reality that being here is largely a matter of privilege - as a white, Ashkenazi Jewish middle-class woman with a U.S. passport.
I have to SEE - to see what it means to be children living in a virtual prison, where they are forbidden by a settler colonial system from even traveling to nearby Jerusalem, or to the sea which is so close, or sometimes to the next village or town. Yet still they keep hope - and an almost impossible sense of vitality and a future.
As a leading girl in the group, lovely Marwa, said when asked what they aspired to for their lives and their community, "We hope to live in freedom and have our dreams. If each of us carries our dream, it will come true."


---
The Ongoing Nakba  | Angela M.

I had dinner last night in West Jerusalem with a colleague from Ben Gurion University.
West Jerusalem, seen from the vantage of East Jerusalem and the West Bank, is a study in uneven development. Theaters and concert halls, private institutes and libraries, museums of Islamic arts, the Knesset--which proudly occupies a high point in the city—and restaurants full of well-dressed cosmopolitan and secular Israelis consuming pork and shellfish, which figures prominently on the menu.
It is a strikingly manicured, well-administered, and affluent city of beautiful neighborhoods and a sense of complaisant comfort. Israelis - even those who claim to be on 'the left' and shake their heads about the terrible situation borne daily by the 'Arabs' - still abuse the Palestinian workers, cab drivers, and others who exist for them primarily in a service capacity, invisible in their family life or their daily humiliations.
In one short and sometimes tense evening, I witnessed at intimate scale the history of systematic oppression and marginalization that lies beneath the smug self-assurance with which Israelis pursue their privileged lives, the normalization of an intolerable human catastrophe. The deepest most intractable problems are those in which the attitudes and sense of a possible future are so profoundly limited by the very structures that determine and shape our perceptions.
The willed blindness of many Israelis is countered by the visionary hope of so many Palestinians in the face of "this big prison called Palestine," as one of the children of Attuf referred to it.
Israeli blindness coupled with everyday entitlements, and of Palestinian hope in the face of the ongoing Nakba - forced removal followed by cultural erasure, destruction of their property and heritage, and 70 years of statelessness - offers a double paradox.
One can only hope that external pressures will blast open the closed world of the Occupation and give flight to Palestinian dreams of freedom.
---
Ramallah Welcomes Trump  | @huwaidaarraf, @baparkr, and @FalafelDad
EDITORS NOTE: Donald Trump arrived in Israel on Monday, on the 36th day of the hunger strike initiated by Palestinian prisoners in Israeli jails. Palestinians responded by fasting in solidarity, calling a general strike, and holding a day of demonstrations in many cities and towns.
The delegation was in Ramallah and several delegates marched with Palestinians. The following tweets detail their experience:
Ramallah - Total adherence to the General Strike. #DignityStrike #EffTrump pic.twitter.com/gMXelEVHma

— Huwaida Arraf (@huwaidaarraf) May 22, 2017
Marching in solidarity with Palestinians in Ramallah protesting Trump visit and in support of the hunger strike. #dignitystrike #IFPB61 pic.twitter.com/C8PYIY1UGa

— Brad Parker (@baparkr) May 22, 2017
Palestinians declare "Day of Rage" in response to 36th day of hunger strikes and Trump visit to Jerusalem. #DayofRage #DignityStrike pic.twitter.com/mHfbtc185m

— Ja Rulag (☭) (@FalafelDad) May 22, 2017
Palestinian "Day of Rage" declared regarding the failure of Israel to meet the demands of 1700 hunger striking prisoners. #DayofRage pic.twitter.com/fo3nov30zt

— Ja Rulag (☭) (@FalafelDad) May 22, 2017
PALESTINIAN MARCH FOR DECLARED "DAY OF RAGE" FOLLOWING DEMANDS FOR 36th DAY OF HUNGER STRIKES AND TRUMP VISIT TO JERUSALEM. #TrumpInIsrael pic.twitter.com/BYiXXYGf6A

— Ja Rulag (☭) (@FalafelDad) May 22, 2017
Israeli soldiers open fire on mass demo of old and young, women and men before we even reach checkpoint #DignityStrike

— Huwaida Arraf (@huwaidaarraf) May 22, 2017
Snipers shooting at youth in the march. #DayofRage #TrumpinJLM pic.twitter.com/xPMqhmJLO0

— Ja Rulag (☭) (@FalafelDad) May 22, 2017
The sniper is in the second building from the right all the way on the roof.

— Ja Rulag (☭) (@FalafelDad) May 22, 2017
BREAKING: 9 Palestinians shot, injured by Israeli forces during clashes near Qalandiya, medical sources and witnesses say

— Ma'an News Agency (@MaanNewsAgency) May 22, 2017
---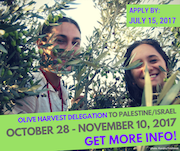 JOIN US IN PALESTINE/ISRAEL! 
October 28 - November 10, 2017

This delegation is your opportunity to visit Palestine during the olive harvest season — a culturally rich and important time. Get updates about this delegation, including how to apply to join, and opportunities for financial aid

Click here for more info!
---
The Incarceration of Palestinian Youth  | @FalafelDad
EDITORS NOTE: This twitter story from delegate @FalafelDad describes some of the challenges of Palestinian youth, systematically criminalized and incarcerated by Israeli occupying forces and police.
The tweets below feature the delegation's visit to the Al-Fara'a Prison, a former detention facility where Israeli occupying soldiers held Palestinian minors:
Palestinian children who throw stones are tried in Israeli MILITARY COURT. 99.7% of all Military court cases are found guilty.

— Ja Rulag (☭) (@FalafelDad) May 18, 2017
Children are kept from communicating w their family, who, already living in extreme poverty, go bankrupt trying to fight these futile cases.

— Ja Rulag (☭) (@FalafelDad) May 18, 2017
The hooks in the walls are where Israelis had child prisoners tied outside for days on end in the 80s. The pipe allows rain to fall on them. pic.twitter.com/pzHpFdHAqG

— Ja Rulag (☭) (@FalafelDad) May 18, 2017
This is the standard children's cell that Israelis imprisoned 7-15 Palestinian children at a time. A former child prisoner told his story. pic.twitter.com/Ms2R8cKpw1

— Ja Rulag (☭) (@FalafelDad) May 18, 2017
---
Una Toca Fuertemente  | Roberto T.C.
Te invito a ponerte en los zapatos de esta familia Palestina. Son la 2:00 de mañana. Tus hijos están durmiendo. Tu madre anciana y enferma y tu esposo o esposa tambien. Todo oscuro y en silencio. De momento, escuchas los ruidos de los motores de carros, voces, luces desde afuera invaden tu casa. Alguien toca fuertemente a la puerta. Los niños lloran porque no saben lo que pasa. Tu madre apenas sin poder caminar sale a decirte: "Son los militares".
Tu esposo alerta a todos, siguen tocando fuertemente la puerta. Nervios, los gritos de todos en casa. Cuando habres la puerta un solado te dice: "Tienes 20 minutos para abandonar tu casa, llevarte todas tus cosas. Vamos a tumbar tu casa por construir sin permiso".
Esta es la tragedia y el drama que frecuentemente viven miles de familias. Imaginate tu y toda tu familia literalmente en la calle y los traumas de los niños. Los permisos son bien difícil de optener, incluso para los palestinos ciudadanos que viven en Israel. Un derecho tan básico y humano como una vivienda, es violado por el Estado de Israel. Pero esto no pasa para los Israelíes.
(translate this with Google Translate)
---
The Promise of the Youth  | Tod S.
Half of the Palestinian population is under 18. With so many of the Palestinian population this young, one can only look forward with optimism. The Palestinians are among the most highly educated people in the world. However, leading this statistic, it is the girls that are becoming highly educated, while the boys are less likely to go to university.
I have seen the promise of the youth here in Palestine.
The same day a 23 year old was murdered by a settler at a checkpoint we were near, a youth council of 5 children in the frontier town of Atuff in the West Bank spoke to us. They documented the many recent atrocities of the Israeli military, who routinely kick out families from their homes for three days and conduct military exercise on their homes, which are damaged inside and out. These kids had just finished their exams, but they were eager to talk to us, and tell their story. Just a few kilometers away, they see Israeli schools that are state of the art, and given every resource by the government, compared to their completely unstable conditions.
Palestinian children cannot escape Israel's military occupation. Boys especially, at an early age, find themselves targeted by the Israeli government and its settlers in the occupied territories. Boys often are incarcerated for simple offenses, such as throwing stones at the Separation/Apartheid Wall, an offense that can likely get a 16-year-old 10 years in detention. Israeli detention is clearly no fun for these kids. Many are tortured. All are subjected to psychological stress and trauma which spoils their chance at a future.
The age demographic numbers are drastically different in the United States, with far fewer children percentage-wise, and a growing population of senior citizens.  We face challenges because we lack a more powerful youth movement. We are spoiled by our freedoms. A young boy in Palestine challenging an armored personal carrier, or even an inanimate wall, shows more courage than most Americans seem capable. It's time we accept the truth and join this global struggle into which the Palestinian has been foisted. We are the ones brainwashed and not the Palestinian. We must break the cycle.
Our tax dollars are being misused. It's time for us to act as the older and wiser people, and end this oppression. We have no right to sip cocktails and ignore this dire human rights issue as if it does not exist. The time to act is now.
---
Huge Realization  | Pat H.
Overwhelming trip. Proud and thankful to be a part of THIS delegation. This doesn't feel like a vacation; it feels like a big responsibility. Huge realization: Israel considers any Palestinian defiance illegal... No wonder so many Palestinians are in Israeli jails.
---
The Road to Genocide?  | Michael S.
During the days of early national socialism, Nazi Germany spread a message that the Jewish people were evil, sub-human and all sorts of criminals based on their ethnicity.  The sad reality is that message has been used against the Arab people and the Palestinian people, especially, so that their cries for help are ignored.   Often collectively referenced as terrorists, they have become the definition of a stereotype. 
Beyond that, documenting the unjust actions of Israel (such as taking photos at Israeli military checkpoints) has been made criminal.  Jews who report crimes to international organizations are accused of being traitors.  The basic rights in America to defend against such atrocities do not exist for the Palestinian people, lack of due process, no freedom of assembly, no freedom from quartering solders in one's home, no right to boycott, etc... 
Such laws and secrecy to suppress the truth, in and of themselves, testify that atrocities are being committed.  Murderers of Palestinian people are celebrated as heroes. Just this week an Israeli Jewish settler shot a Palestinian in cold blood and was not even detained, much less investigated or charged.   Such actions are becoming so common so as to inoculate and desensitize the Israeli people from the innate value of human life.   Unless the situation is changed genocide is not merely a question of if, but when.
---
My Analogy  | Sharon C.
There is much to write about this trip. We are spending much of our time in the West Bank. The theme of this delegation is "Incarceration, Detention and Political Prisoners."
I will write more later about what we've seen & heard in Jerusalem, Yafa, Tel Aviv, Ramallah, Hebron, Naqab (Negev) Desert, and Bethlehem. But at this time I want to write about how I see the conflict with an analogy of family.
The land of Palestine/Israel is like a beautiful heirloom tapestry that has been enjoyed by 2 cousins in their grandparent's home for many many years. Then one cousin unilaterally claims ownership of this heirloom. Saying that God gave it to him years ago, that he's been bullied the most and he and his descendants need it more.
The other cousin, stereotypically labeled as slow, not organized or not aggressive enough can put-up or shut-up with this grab. The "chosen" cousin does not have to share, his family is entitled to it.
In a land where cousins could be friends and neighbors (and were, up to the turn of the century) it is sad to travel this country and see how oppressive and humiliating one cousin can be to another. The indigenous non-Jewish people here do not have equal rights. One state, 2 state, whatever, start with basic human rights. Israel, start treating your cousin as family. Start kindly sharing this heirloom again with goodwill and respect their homeland too.
---
We invite delegation participants to comment on and react to the experiences they have during our Israel/Palestine delegations in written Trip Reflections.

Individual delegates contribute pieces to these reflections. As such, reflections are not comprehensive accounts of every meeting or experience, but impressions of those things that most impact individuals. Submitted reflections may be edited for clarity or brevity. Trip reports do not necessarily reflect the views of Interfaith Peace-Builders, trip leaders, or delegation partner organizations. We hope you enjoy reading and we encourage you to share these reflections with others.
---

DONATE: Support IFPB in sending more trips


---

TRAVEL: Sign Up To Learn About Future Trips