< Reflection Three: Transformations and Commitments
May 2017 Delegation | Incarceration, Detention, and Political Prisoners


_______________________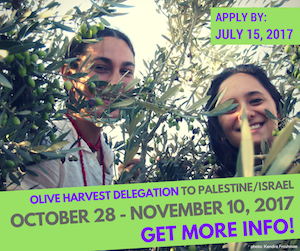 Overview: The final collection of reflections from the delegation is as deep as it is broad. It begins with reflections on the journey by Bridget J., William R., Bessa W., and Sharon C.

Powerful experiences staying with Palestinian families in the Dheisheh Refugee Camp and the city of Hebron are the subject of pieces by Callie W., Bonnie G., Bridget J., Michael S., and Francis S.. Tod S. also shares reflections on the delegation's visit to an unrecognized Palestinian Bedouin village.
A third theme focuses on the narrative of security and Sarah, Angela M., Alex M., and Emma J. share their thoughts. Michael Stansfield's second contribution features his perspective as an Evangelical Christian. Carol M. and Sarah reflect on the contrasts between what they experienced in Palestine/Israel and common perceptions of the situation in the United States.
This final set of reflections concludes with Callie W.'s meditation on the power of words.
---
Transformation  | Bridget J.
Just before I left on this trip with Interfaith Peacebuilders, I received the publication "Oneing" that I had ordered from The Center for Action and Contemplation, founded by Fransican priest Richard Rohr. As I was anxious about the trip, I thought bringing something inspirational would bolster me through whatever we might encounter. The latest volume of collected essays happened to have the theme "Transformation."

How appropriate it seemed, since I suspected that this trip might be transformational through what I would see and the people I would meet.
I have also thought about how my thoughts about Palestinians have evolved through my life, starting with the fear and disgust I felt when I was nine years old as I watched images from the Munich Olympics where members of the Black September organization took Israeli athletes hostage. How did I get from there to the South Hebron Hills with other internationals (as we're called here) including over a hundred Jewish Americans, to help reclaim land where the Palestinian village of Sarura had been so the families can safely return to tend their sheep, plant their olive trees, and raise their children?

Others in our delegation have told their stories of how they have moved in their thoughts about Israel and Palestine. Movement is ongoing and within our delegation, people are at different places and we have all come from our unique positions. The differences sometimes cause friction, so we are having to work among ourselves to listen to one another's experiences and to be open to being moved by new understandings of others and ourselves.

We have heard from some Jewish Israelis who have come to counter the narrative which they heard when they were growing up and to which they subscribed. Amitai Ben-Abba refused to serve in the Israeli military, known as the Israeli Defense Forces (IDF) by Israel and much of the world, but called the Israeli Occupation Force (IOF) by those who experience the reality of the occupation. His sister, associated with the organization Mersavot, is returning to prison on Monday for her refusal.
Earlier in the trip, I identified with a woman in the Coalition of Women for Peace who described her experience of coming to a different understanding of the situation as the removal of layers, as an onion. When she described that removal of layers, I thought about the removal of oppressive jackets that weighs one down. Yes, those who are always having to maintain a narrative that results in the oppression of others are in a kind of bondage themselves. The removal of layers is precisely what the word 'revelation' means, pealing back the veils.

Our schedule was so busy over the ten days, I didn't have much time to read, much less write reflections on what we'd experienced. On the plane leaving Israel, I opened the 'Transformation' volume that I had set aside for much of the trip and found article after article relevant to this revelatory trip.
The first article opened with the author speaking of her trip to Israel, recognizing it as a nation "dealing with deep-rooted paradoxes." The next article referred to the forced relocation of native peoples to Oklahoma, reminding me of Palestinian refugees.
The next questioned whether, despite the many changes that came with the 1998 Peace Agreement in Northern Ireland, any transformation of attitudes had occurred. This author, Ruth Patterson, using the book "Where the Wild Things Are" for her imagery about transformation, states "Our best 'happily ever after' scenario is a silencing or destruction of the wild thing that is always the other and never, ever us. It does not enter what appears to be, at times, our demonic imagination that there could be another conclusion, one that sees a taming or a disarming that has as much to do with us as it has with the other."

As I return to the United States, I know that I have developed a greater understanding of how the present situation between Israel and Palestine and my personal experiences have given me a new lens with a sharper focus to view the conflict.
For now, I do feel a sense of responsibility and urgency to amplify the voices I heard. Whether I have had a truly transformational experience is yet to be seen.
I suspect that when I recall the young Palestinians who spoke with hope of having basic freedom of movement and fair and equal treatment, I will be reminded of the complicity of my country with an Israeli military structure that enables the economic strangling of Palestinians. I will be reminded of my involvement in other structures of power and privilege that oppress others.
If my life starts to become more directed and actively committed to dismantling those structures, this trip to Palestine will have been an important step on that journey of transformation.


---
With Steadfastness  | William R.

We will return. That is not a threat, a wish, a hope, or a dream, but a promise.
– Remi Kanazi
Over the course of our travels these past two weeks, members of our delegation repeatedly questioned whether or not true change bringing justice to the Palestinian people is possible to achieve. Israel, after all, boasts one of the world's most powerful and well-funded political lobbies, not to mention their support on the international scene from (as Noam Chomsky once put it) the biggest thug on the geopolitical block, the USA. Is there anything Palestinians and international advocates can do to bring an end to Israel's ongoing colonization of the West Bank, to abolish Israel's apartheid legal and criminal justice systems, and to compel Israel to respect Palestinian human rights?
I noticed, however, that the Palestinian people we have had the opportunity to meet over the course of our delegation so far have not paused to raise such questions. For them, the struggle for justice, it appears, is one undertaken not as the result of a measured calculation of the likelihood of success but out of sheer necessity. Cynicism and doubt, it seems, are simply not a luxury they can afford.
As one example, when we had the opportunity to speak with prominent Palestinian human rights defender Issa Amro, one delegate asked Issa, "What can people in the US do to support your struggle?" Issa responded, "Get your representatives speak to out on Israel's abuses of Palestinian human rights." When I quietly mumbled, "that would be nice," Issa promptly turned to me and exclaimed: "No. You have to work at it."
Issa is not naïve. He knows as well as I do how challenging it is to get Palestinian human rights on the political agenda in the United States. But Issa cannot afford to resign to the belief that such challenges are insurmountable. Issa insists upon the efficacy of this struggle, regardless of what stands in the way, because his community and his homeland hang in the balance. And he expects nothing less from internationals like me.
Issa's resolve is not exceptional among Palestinians. From the 1,700 Palestinians prisoners recently on hunger strike for 40 days to demand the basic rights Israel's military court and prison systems deny them; to the Palestinian refugees living in the Dheisheh camp who have continued to believe, for 69 years, that they will return to the villages from which Israel forcibly expelled them in 1948; to the residents of occupied Hebron, who refuse to leave the city even in the face of daily harassment and violence from Israeli settlers and soldiers that is meant to make their lives so miserable that they abandon their homes.
The attitude and ethos of the Palestinian people is perhaps best encapsulated by the Arabic word sumud. In English, sumud means steadfastness. The Palestinian people we met over the past week embody sumud in their persistent refusal to give up and back down in the face of Israel's constant efforts to break their bodies and their spirits.
Israel and their allies abroad may outmatch the Palestinian people and those who struggle with them when it comes to lobbying power. Israel and their allies abroad may have the funding and resources to send countless internationals on free propaganda trips that promote a false and malicious narrative about Palestine/Israel.
But the Palestinian people have the
sumud
to continue fighting. And bearing witness to this
sumud
, internationals like me will continue to find new resolve to commit to the task of winning support for the struggle for justice in Palestine and in our respective communities. When I find myself doubting the efficacy of this struggle or fearing that change is impossible, I will remember Issa's prompt and unflinching response to my expression of doubt two days ago: We have to do the work, with steadfastness, because too much is at stake
---
CALL ON CONGRESS TO SUPPORT ISSA AMRO
Defend Human Rights in Palestine!


Members of congress are circulating a letter calling for Issa to be protected from Israel's illegitimate military court system. Please get your representative in congress to sign the letter! Click here for more info!
---
On Silence  | Bessa W.
I grew up wondering how the holocaust could have happened. As a child, I could not understand why no one stopped it. (Children can think quite clearly at times.)
Sadly, I learned later that most Germans and most of the rest of the world were silent. They did not know or didn't want to know what was happening, despite the evidence all around them.
I learned then that silence is complicit and that I must be active and speak out in the face of injustice.
Thus, this trip to Israel and Palestine - to learn what in fact is happening from the people directly experiencing it. This will allow me to speak out with more knowledge and on the basis of personal experience.
To me, the silence of many (most?) Israelis and most of the rest of the world about the systematic and institutionalized oppression of the Palestinian people repeats that earlier history. Yet it is not only the silence of so many, it is the overt complicity and profit making by multinational corporations and others (such as pension funds) that actively support what is happening. A look at the BDS list provides ample testimony to this fact.
What I have witnessed and heard so far from both Israelis (those who are not silent) and Palestinians is appalling. I cannot help but be deeply moved by what is happening on the ground, every day. Day in and day out, Palestinians are humiliated, threatened and all too frequently murdered with impunity. One day while we were in the area, a Palestinian man was shot in the head and killed by an Israeli settler, who was not even arrested or investigated, much less charged with anything. This was not an isolated incident; it happens on a regular basis.
The stories we heard bring this home in a way that statistics and intellectual discussions cannot. Yes, the situation is complex. And that can and does become just an excuse for inaction.
Silence, now that I know what is happening, is not an option. I cannot consent - which is what silence is - to be complicit in this
---
Moving Beyond Confinement  | Callie W.
Two of us had been invited to spend the night at the home of Naji Owdah at the Dheisheh Refugee Camp. As he lead us into the house he said: "We'll close the windows at night in case of a tear gas attack." A normal enough warning considering the circumstances under which Palestinians live.

Our delegation had heard an eloquent description of the camp's beginnings after the 1948 Nakba when Zionists drove Palestinians from some 500 villages (descendants of 78 different villages ended up in this small barren area in Bethlehem). Now, nearly 70 years later, we are sitting in the living room drinking sage tea with Naji and his wife. Generations of children have grown up in the camp under the restrictions, threats and harassment of the Israeli army. Naji himself, now the Director of LAYLAC: The Palestinian Youth Action Center for Community Development, has spent some 20 years in prison. So how did their son get to the US under a Fulbright scholarship?

His wife, Suheir, tells the story. Murad had graduated from the University here but could not get a job and spent his days hanging out in the house and sleeping. His Mom saw an announcement in the newspaper for Fulbright Scholarships and urged her reluctant and dispirited son to apply. Then pushed him again to study for the English language ability TOEFL exam. Then to interview with the university admissions officer via Skype. Murad dragged his feet but met with success at each step in the process.

Accepted by the university, he then had to see the US Consulate for a Visa. Israeli authorities would not let him pass into Jerusalem, even when the university wrote a letter vouching for him. He needed permission to pass since both a checkpoint and a settlement that Zionists had established on Palestinian land blocked his way. Finally, his Dad dropped him at the edge of the settlement. Murad ran to the other side as fast as he could - avoiding security and arrest or worse - and was picked up by a friend who drove him to the consulate.
Initially Naji said he would run across the settlement with his son hoping that if they were blocked by soldiers he alone would be arrested while Murad continued. Murad refused, saying that he would never leave his father in the hands of the military. And Suheir noted that while her son was running across the settlement she herself was sitting immobilized on the sofa. She said, "my legs were paralyzed."

Finally, visa in hand and bags packed - but prohibited from going to the Tel Aviv airport - he went to Jordan for his flight to the US.

Now back in the camp he and his wife are raising a child, nurturing the next generation, working for human dignity, human rights and international recognition of Palestine's right to autonomy.
There was no tear gas in the camp the night we were there. After 15 days without water the Israeli authorities had turned it on. The laundry got done. This is enough to keep hope alive?!
---
In a Mother's Eyes  | Bonnie G.
Reflection after a home stay at the Dheisheh Refugee Camp and after stops at striking prison support tents in Bethlehem and Ramallah:

While in Bethlehem we visited LAYLAC: The Palestinian Youth Action Center for Community Development that adjoins the Dheisheh Refugee Camp, one of the camps Palestinian refugees were forced to live in after 1948. Having spent the majority of my professional social work life working with teens and young adults, I was particularly interested in learning about this center and its approach to youth development in the midst of structural oppression that limits, on all fronts, potential development of empowered young leaders.

Touring the refugee camp, we turned corner after corner and each turn revealed the beautiful faces of children and young adults painted or posted on walls, door frames, or windows. Face after face - youthful, proud, expectant. Each picture was that of a Palestinian child of the camp, killed in colonized Palestine occupied by the Israeli Defense Forces.
How could there be so many? Many had committed no crime. It's estimated that at over 80% of Palestinian children arresed by Israel have been accused, with or without proof, of throwing stones at some symbol of colonial power.

After the tour, learning about LAYLAC's philosophy, strategies, and programs, and enjoying a delicious dinner, I and two other delegates went to spend the night at one of the camp's host families. As we were assigned to our homes, the LAYLAC director, gently whispered in my ear, "You are going to a very special place." We were then driven to a house shrouded in darkness and asked to wait while our young driver went to a house several doors away. He returned with the resident of the darkened house who escorted us to the apartment we were to spend the night.
Once inside, we learned that this was her home. A home she found entirely too painful to be in as it was the home she had shared with her son, before he was killed by the Israeli army in October 2015. Pictures of him filled the space. Her entire body conveyed grief. It was as if time had stopped for her. The most indelible image was of her eyes, dark, penetrating, sorrowful, forcing back tears as we offered condolences.

I immediately recalled one of the walls we had seen earlier during our tour with a picture of four children, and a fifth space, with just a question mark. Which mother would be the next to stare through tears and mourn? In the days that followed I would see those eyes again and again on the faces of mothers who sat in the tents in town squares holding pictures of their lost sons while supporting the prisoners on hunger strike to gain improved prison conditions.

So mothers will continue to mourn, but at the same time resist the structural oppression they and their children are subjected to. As we joined the demonstration in Ramallah in support of the prisoners' strike, I carried images of those eyes as I watched the young people rise up in non-violent resistance, a powerful wave asserting their right to live free and equal. Their mothers' strength propelled them.
---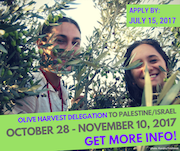 JOIN US IN PALESTINE/ISRAEL! 
October 28 - November 10, 2017

This delegation is your opportunity to visit Palestine during the olive harvest season — a culturally rich and important time. Get updates about this delegation, including how to apply to join, and opportunities for financial aid

Click here for more info!
---
The Homes of Palestinians  | Bridget J.
Our first homestay was in the Dheisheh Refugee Camp. When we arrived in the afternoon, we were given an introduction and tour by several young men who work with the organization LAYLAC: The Palestinian Youth Action Center for Community Development.
According to our guide, the Israeli military patrols the Palestinian camp at night at least weekly, often raiding houses, setting up snipers on rooftops, and firing rubber bullets, tear gas, and even live ammunition if any group gathers to resist the soldiers' movement through the camp.
The night we stayed in the camp, our host suggested that, despite the nice cool weather, we close the windows so tear gas wouldn't come in.
But tears came anyway.
As we left the dinner that we had enjoyed on the rooftop of the center and bid farewell to our hosts, thanking them for the meal and showing us how to dance dabke, the traditional Palestinian dance, our group of three women was told that we were going to a very special house. When we arrived, the young man who had taken us there told us to wait outside while he ran down the narrow street. As we waited outside the darkened building, I noticed a plaque on the front with the face of a young man. From our earlier tour of the camp, I knew that such plaques are placed in memory of someone killed by the Israeli military.
Our escort returned with the key and led us upstairs into an apartment that appeared nicer than I had expected in a refugee camp, that is to say, spacious and equipped with new cabinetry and appliances. Yet no one seemed to be living in it. The only adornment were posters on a wall with photos of young men, including the one on the plaque downstairs, and several large trophies on top of one of the cabinets.
He explained that this apartment was built by the man on the plaque for his mother. He had been killed by the Israeli military in Bethlehem a year and half ago but she couldn't bring herself to live here as it only reminded her of the loss of her son. Another of her sons was pictured in the other poster and had been in Israeli prison. I later looked online to find this story that gave me a fuller understanding the family in whose house I stayed.
As our escort was telling us that in his twenty-eight years, he had had fourteen close friends killed by the Israeli military, many of whom had played soccer together and whose trophies were on the cabinet, in walked the woman whose apartment we were in.
I don't know if she understood English or not, but it didn't matter since no words could've been sufficient. I also wasn't sure of cultural protocol and didn't want to overstep physical boundaries to give her a hug, but we held hands and I looked into her tear-filled eyes.
I didn't start crying until later, once in bed.
But as I stood there with this grief-stricken mother, the human cost of the conflict became personal for me for the first time. The reality of one of the graffiti art pieces we had seen on the tour of the camp hit home. It was of three figures; two were portraits of young men in the camp with their birth and death dates and the third was in silhouette with a question mark on his face.
Who would be next?
Our next homestay was two days later in the city of Hebron, more specifically, in the H2 section of the city that is under total Israeli military control. Our guide was Issa Amro, a prominent Palestinian defender of Palestinian human rights and co-founder of the grassroots organization Youth Against Settlements (YAS).
Issa toured us through this part of Hebron, we saw streets literally blocked off with huge blocks of cement piled on one another or with concrete walls. One was next to a school, forcing children on long detours through the Israeli military checkpoints that are scattered throughout this part of Hebron, restricting movement within H2. At these military checkpoints, even Palestinian children must present their identification cards and now, since the end of 2015, they must recite new identification numbers they were assigned so soldiers can check them against a master list before allowing them to pass.
On some streets, Palestinians are not even allowed to walk.
I'll never forget walking up one path, only about 50 meters, but it was separated from the road by a high fence and was strewn with the rubble of a building that had been destroyed to make way for the road only the settlers could use. To enter this path, one had to go through a gate that emitted a piercing high-pitched tone whenever it was opened.
At this point of our tour, we had a gaggle of Palestinian kids following us and one girl was ever so gracious, holding the gate open for all of us to pass. While we were wincing at the loud alarm as we passed through, she smiled at us, seemingly pleased to offer assistance and perhaps get a little tip, I imagine.
These diversion paths do not seem to be as much for the protection of the Israeli settlers living in Hebron, so as to make Palestinian life more difficult. I say this because one such path is in a field and cemetery that overlooks the street, so the street doesn't really seem so protected as it does segregate.
It had been a long day by the time we were to go to the families to spend the night. By the time we had finished dinner at the YAS center and divided into our groups, it was 11 p.m. Our escort had to take it slowly for our group of 3 men and 3 women as we navigated the steep rocky path down to the street.
We arrived at the building in Tel Rumeida, the little Palestinian village that is in Hebron's H2 area, and our escort was beginning to tell us which floors we would be on when one of the Israeli soldiers from a checkpoint about 20 meters away aproached us. He started saying that we couldn't be there.
Luckily, he was speaking in English so we understood the entire exchange.
After several minutes of going back and forth with the soldier, assuring him we were just going to sleep and would not be going further up the road, we traipsed upstairs, not exactly sure we had been given the o.k., but satisfied that the soldiers felt they had done their part in harassing us.
Our family was waiting for us three women on the rooftop floor. None in our group spoke Arabic so we were thrilled that the 11-year-old girl was fluent enough in English to have real conversations. The fourteen-year-old boy and the mother took somewhat of a backseat as Niida, the girl, bubbled over with the excitement of being hostess. We showed one another pictures and we learned that an older brother was staying with the mother's parents, probably somewhere with fewer restrictions of movement and the father was somewhere else working.
The highlight of Niida's pictures were at a pool, obviously somewhere other than H2 Hebron. This reminded me of children we had heard earlier in the trip who simply wanted to travel freely, at least to see their own country.
In the background, the television was tuned into an Arab version of The Voice for Kids. One of the stars from an earlier season had been a boy from Gaza, explained Niida. I wonder how he got out of Gaza to participate? Perhaps part of his popularity was that he offered hope to other Palestinian children who dream, not of stardom, but simply of having opportunities. Before going to bed, the kids insisted I take a selfie with them. We are all smiling, but I know their reality is harsh and smiles are a kind of act of resistance.
The next morning Niida came in brighter than sunshine to wake us up before she headed off to school. Her mother confirmed that she is a hardworking student, undeterred by any difficulties getting to and from school or any harassment from settlers. On the other hand, Ahmad, the boy, has given up on school. Perhaps he has bought into the Israeli stereotype that young Palestinian boys, at best, cannot amount to much and at worst, are terrorists.
I am afraid for him because all it takes is for the Israeli military to be suspicious of a boy to take him into detention for questioning, physically abuse him during transport and then deny him access to speak to his parents or lawyer for hours or even a couple of days. Having had the encounter the with the soldiers at the nearby checkpoint, I am afraid that the chances of an ill-fated encounter are high for him. I worry that his mother will become grief-stricken as the mother in the refugee camp, especially after the men who stayed in the building told how they had seen a video of a Palestinian shot dead in front of the very building where we stayed.
Just the 10 days that I spent in Israel and Palestine, especially these homestays, are now embedded in my life experience, with grief from the mother in Dheisheh, with concern for the boy in Tel Rumeida, and with hope from both his sister and the youth that are involved in the grassroots organizations that are teaching them to live with dignity and continue the struggle for their human rights.
---
Against the Law to Have Friends  | Michael S.
On our evening in Hebron I stayed at the home of a Palestinian family. An Israeli solder came up to us before entering and asked if there were ten of us. He asked because it is against the law for ten or more people to meet with a Palestinian. We answered "no".
Then he stated that it was against the law for Palestinians to have tourists spend the night. Our host kindly replied that he hadn't heard of this law, to which the solder stated it was a new law. Our host requested "may I see the law?" The solder got on his radio and started speaking in Hebrew.
Steve, another member of our group spoke up, we are not tourists, we are not paying him to stay here, we are friends, is it against the law to have friends? The soldier said, "yes, it is against the law," to which Steve replied, "It is against the law to have friends?" At this question, the solder seemed to get nervous, it seemed partly because we were westerns I think, but he relented and we hurried in.
Our host told us we were lucky to be foreigners, because he is not allowed to have his own parents or brothers and sisters come to visit him in his home.
On the streets leading up to the house there were numerous signs stating that the security measures were needed to protect the Israeli Jewish citizens living illegally in this Palestinian city. One would not have known that there was a massacred of 29 Muslim Palestinians here while they were praying at the mosque. Even at the grave of the murderer you would think that a hero was buried there.
As the Palestinian children lack large places to play, such as a park, you see them playing in the streets. The streets are small and windy in residential neighborhoods yet I noticed that the Israeli Jewish settlers driving on them as if it was a major highway often veering to the opposite side of the road to where we were walking and the children were playing just for sport.
As a US citizen, I had read stories about separate but equal in the Southern United States, but seeing the practice there where our Palestinian host, and in fact all Palestinians are forbidden from walking on their own streets because of their ethnicity; where what can only be described as an air raid siren goes off just for opening their door; where children are labeled as numbers and if they lose their number they can't attend school; was a surreal experience to say the least.
The following morning our host showed us a film he took with his cell phone. A Palestinian man with hands lifted in submission was shot twice in the stomach by an Israeli soldier and then - after he fell to the ground – once more in the head, point blank, just five feet from our hosts front door [EDITOR's NOTE: this video depicts a similar act in March of 2016 - it is graphic]. The video then showed the Israeli soldiers celebrating with candy and laughter. We even saw Israeli settler leaders come to shake the hand of the murderer who did the killing. To our host this was life, the life he knew as a child to adulthood.
Throughout the trip such sites and stories were seen and told over and over again in different ways and forms, causing me to ask the question where is humanity's love for these people?
---
Hebron, the Ghost Town  | Francis S.
In this, my fourth visit to the "Holy Land," the vise of apartheid seems to tighten even more.
Hebron, the largest city in the West Bank, features nearby the vaunted settlement of Kyriat Arba, illegal home to thousands of resolute Israeli Jewish settlers, many of whom consider the only good Palestinian a dead one.

This settlement glorifies with a monument the "martyrdom" of Dr. Baruch Goldstein, a middle-aged Israeli settler from New York who set aside his Hippocratic oath in favor of assassinating scores of Palestinian worshippers in the Mosque of Abraham. Kyriat Arba's other heroes include the late Rabbi Meir Kahan, an ardent champion of violence to throw out the Palestinians.

A recent booklet titled "Hebron, Ghost Town," produced by Western observers describes a long list of abuses visited upon the Palestinians by a handful of fanatic settlers who have forced themselves into portions of Hebron's Old Town, forcibly dislocating their Palestinian occupants. The Israeli army has established itself permanently there "for the protection" of these settlers; in the process, one can see a system of controls by checkpoints and selective street closures resembling others throughout the West Bank.
This Kafkaesque scheme - intimidation, harassment, injustice - is obviously intended to break the spirit of the Palestinians. By all we can observe however, Palestinians remain steadfast and hopeful that one day soon the world will act beyond mouthy resolutions in defense of their human rights.
---
Surveillance and Militarization  | Sarah

When you arrive in Israel, some of the first things you notice are:

Young soldiers with semi-automatic rifles, armed guards, and sophisticated surveillance cameras.

They are everywhere.

It's a baseline fact of existence, even far away from checkpoints and other areas of "friction."

Surveillance and the militarization of society are deeply woven into life and thinking in Israel.

It's arguable that Israel has more soldiers in uniform than it needs. When you add this to the Israeli police force, the border police, the civil guard and private security guards, there are hundreds of thousands of people in uniform, carrying guns--in a country the size of New Jersey. You see them everywhere. Israel also operates a huge, active intelligence-gathering network--the Shin Bet. the Mossad and the military intelligence wing. So, these are the folks you don't see.

Of course, Israel also has nuclear missiles, the Iron Dome air defense system and some of the most sophisticated high-tech weaponry in the world. Israel is the world's tenth largest arms dealer. (The US is the largest.)

It has peace treaties with two of its four neighbors--and the other two--Syria and Lebanon--are so swamped by internal and regional problems that it's hard to argue that they pose a significant threat to Israel.

So what are the cameras and the guns for?

Do they make Israel "safer?"

What is sacrificed--and what is enabled--by the intense preoccupation with security?
---
Rebranding the Palestinian Struggle  | Angela M.
The Israeli security apparatus is everywhere: checkpoints, Israeli soldiers casually swinging assault weapons, guard towers with surveillance cameras, electrified and razor wire fences, concrete barriers between neighborhoods, and, of course, the so-called "security wall." Israeli settlers are assigned military protection for every major event and gathering, at every bus-stop in the illegal settlements throughout confiscated Palestinian lands.
Military security is ubiquitous, at huge collective cost to Israel.
The perceived need for such security has to be manufactured, through a variety of channels that together constitute Israel's internal and international campaign to control the image of the occupation to its own citizens and to the world. The climate of fear and the narrative of a small embattled nation beset by Arab terrorists intent on extermination must be actively constructed and maintained.
The system is implemented for each new Israeli citizen from the moment of birth forward, through a variety of means. The 20 shekel Israeli currency bill has a guard tower equipped with surveillance cameras; schoolchildren learn math by a calculus of patriotic symbols - flags, stars of David, menorahs - side by side with tanks and guns. These everyday examples of a militarized culture in service to the Israeli defense narrative underwrite a security and surveillance apparatus that rivals North Korea.
From the founding of the state of Israel, the security narrative has been fundamental to Israel's rationalization of the cruelest features of the Occupation.
At the visual heart of the security narrative is the image of the young "Arab" terrorist, head wrapped in a Keffiyeh covering most of his face. To international movements for indigenous rights, this image has become a symbol - like Che Guevara - of solidarity and struggle. But to mainstream media in the US, the image signifies everything that threatens the tiny besieged nation of Israel in its efforts - since 1948 - to seize and control "a land without people for a people without land." 
Israel's nationalist myth of an empty land conveniently erases the centuries' long Palestinian presence there, much like the myth of American wilderness.
One myth – of the empty land - sits uneasily with the other myth - of an embattled nation beset by Arabs hurling rocks, intent on destroying Israel, the land that - according to the messianic Zionism of the settlement movement - never belonged to the Palestinians in the first place.
Jewish settlers from the US suburbs, in their quest for their Biblical homeland, claim right of place over those who have built terraced hillsides and families and massive stone villages and mosques. The rocky hills of the West Bank map their careful cultivation and labor: rocks laboriously assembled to stop the slow erosion of nature and to form to the land; practices that date back centuries.
To see this humanized landscape with its record of labor is also to throw into doubt the narrative of Israel as a land without people.
The contradictions multiply. For the 'Arab' threat is a small fly buzzing around the head of the colossus that is the Israeli security state. Palestinians have stones and slingshots; Israelis have assault rifles, phosphorus that burns holes in the flesh, and bullets that explode once they enter the body, tear gas, tanks, surveillance drones, and long range missiles carrying bombs that destroyed Gaza in 2009 and again in 2014. They rule the seas around Gaza, the air space, and all the borders to the territories.
The claim that Palestinians - imprisoned in their own land, their routes of communication with one another blocked, and their daily struggle to live consuming most of their energies - might pose a threat to this colossus evaporates as soon as it is exposed to the realities on the ground.  However it lives and flourishes in the US atmosphere of ignorance about the actual conditions of life under Israeli occupation, and the blanket rhetoric of suicide bombers and terrorists that blinds Americans to these conditions.
Mainstream media thrives today on instantly consumable news lacking context, analysis, and documentation; it thrives on memes that conveniently flatten complex realities for those who don't realize how blinkered and blinded by self-serving Israeli narratives their thinking is.
Maybe therefore it is time to substitute a different image for that of the young Arab resistance fighter, one that captures the history of dispossession, of families separated and children detained.
The stoic grieving mothers of Palestine, those who have lost sons and husbands and brothers, who put aside their own pain to fan into life a sense of hope and resilience in the face of violence and dehumanization - perhaps their image would speak a different reality, along with the photographs and words and colors and textures of old Palestine where Jews and Arabs shared a common history and land before the rise of a divisive ethnic nationalism violently separated them.
---
Israel's Security  | Alex M.
When Israel takes bold actions, it is often in the name of security.  The wall between the West Bank and the internationally recognized border of Israel (note: Israel, continually confiscating more territory in its bid to expand, does not recognize this border) was erected supposedly for security.  Gaza is under blockade for Israel's security.  The numerous checkpoints in the West Bank and heavy militarization are for security reasons, we are told.  Similarly, the reasons given for military raids in the middle of the night to arrest children and laws making protests illegal, again, are for security.
Why does Israel need so much security?
Israel has the sixth largest number of nuclear weapons in the world and is considered the 15th most powerful militarily.  That's pretty incredible considering it is the 98th country in population representing 0.1% of the world population.
As I traveled Israel/Palestine, the military is omnipresent.  Automatic weapons are commonplace and visible in almost any public place in East Jerusalem and throughout the West Bank.  Why does Israel need armed soldiers at bus stops?  Why do individuals need soldier escorts?  Why does Israel need a wall up to 26 feet high, more than twice the height of the Berlin Wall?
Jews are known to have a history of persecution across the ages.  The Holocaust is broadly highlighted as a reason for Jews needing security.  I found it fascinating that as I was touring Yad Vashem, the World Holocaust Remembrance Center in West Jerusalem, so too were a number of young military recruit units, all in uniform.  It appears that part of their training is to get into the mindset that Jews are the persecuted and their job is to protect the Jews.
The problem is that just barely over half of the population who live under Israeli control and who require Israeli approved IDs, are Jewish.  Furthermore, the other half of the population is considered to be the enemy and treated as a second-class citizen, if they have citizenship at all.  This does not bode well for creating a safe, secure environment.
Add to that toxic cocktail, the fact that Jews and Palestinians are all under Israeli control but are under different laws.  Consider that 40% of all Palestinian males in the West Bank have been to prison and Israel's military courts have a 99.74% conviction rate, including of children, while Jews in the same area often do not even get detained when they commit murder of a Palestinian.  One can understand why Israeli Jews might feel like they need protection from angry Palestinians with these unfair, violent, discriminatory practices.
When the Israeli government does not recognize 35 Bedouin villages and towns, meaning that they do not get electricity, running water, roads or other services and face home demolitions, yet a single Jewish 'farmer' having a pet cemetery can get all those services plus Internet service and rights to land on short order, is it a wonder that Jewish kids ride to school on bullet proof buses?
When only a red sign prevents Israelis from entering a Palestinian area, yet Palestinians are required to go through time consuming, humiliating checkpoints just to see their relatives, even in other Palestinian areas, is it a wonder that Jewish Israelis feel like they need protection?  When I was in Hebron, one of our Palestinian hosts told us that his mother cannot even visit his house because only the people living on that street are allowed access.  When an American visitor in Hebron, or the rest of Israel, has more rights of free travel than a Palestinian born there, how does that help security?
When Palestinians have no say in the laws that govern them, yet people who attack them do, how does that help security?  I can go on and on with the reasons why one might be concerned in such an apartheid system, where one ethnic group gets preferential treatment and the other is stolen from and humiliated.  Arresting children in the middle of the night and torturing them into confessions before charges, restricting freedom of movement, confiscating land, demolishing houses and requiring the owner to pay for the demolition, all create, rather than alleviate, a need for security.
Given this created need for security, do the tools provided actually make Israelis more secure?  Does the Wall provide anyone with security when there are millions of Palestinians on both sides of the wall (Israeli citizens and East Jerusalem residents on one side and West Bank residents on the other side) and when there are over 500,000 Jews on the wrong side of the Wall in settlements in the West Bank?  Clearly it is not about security but about further oppression and land confiscation.  Does putting a wall between a Palestinian and his farm add to the security of Israeli Jews or actually increase the need for security?  Who in their right mind would take Palestinian land and put a colony/settlement of Israeli Jewish families right next to a Palestinian city if in fact one were concerned with security?
So why all this artificially created hatred, friction, killing, incarceration, apartheid, land confiscation, and deprivation of human rights?  Violations of Palestinian human rights are a necessary requirement to a Jewish state, especially one that is larger than the U.N. Partition Plan of 1947.  Why?  Because of the math.
When the United Nations developed the partition plan in 1947 they proposed the Jewish state to be 55% Jewish and 45% Non-Jewish; the Arab state would be over 98% Arab, the Jewish population exceeding Arab population by only 91,000 in the Jewish state.  They also estimated that between 1946 and 1960 the Muslim and Christian population would increase by over 481,000 and Jewish by 56,000, not including immigration.
Doing the math, 33% of the Arabs would be in the Jewish State.  33% of the 481,000 population growth by Arabs would be an increase of 158,000 Arabs in the Jewish state in those 13 years.  The only way for the Jewish state to remain a Jewish state would be to aggressively increase its population through immigration and/or get rid of Arabs.
The solution chosen by the Zionists was to give themselves a bigger demographic cushion.  By, as Ilan Pappe, the Israeli historian, describes it, 'ethnically cleansing' Palestine of 750,000 Arabs, the Jewish majority would be much higher.  Furthermore, if Israel were to have more land than the U.N. Partition Plan provided, it needed to implement that ethnic cleansing immediately.  Because taking more land meant absorbing more Arabs on that land, Jews would immediately become the minority unless they were able to expel the Palestinian Arabs.
For this reason, Israel implemented laws to facilitate Jewish immigration and, against international law as highlighted in UNGA Resolution 194, prevent the return of Palestinians.  The sadistically named Israeli Law of Return (because it did not apply to the Palestinian refugees who had recently been expelled), enacted on July 5, 1950, gave Jews the right to immediate citizenship.  The Absentee Property Law of 1950 confiscated the land and possessions of the Palestinian Arab refugees.   The Prevention of Infiltration Law, enacted in 1954, authorized the deportation of armed and non-armed infiltrators before or after conviction, eliminating the possibility of Palestinian refugees from ever coming home under Israeli law.
When the 1967 war occurred and Israel took the West Bank, Gaza and the Golan Heights they had the same problem: more Arabs.  The only way to maintain the Jewish majority was not to give them citizenship.
Finally, because the Palestinian birth rate is higher than the Jewish birth rate, the 'demographic bump' continues to plague Israel; it is estimated that within five years, there will be more Palestinians under Israeli control than Jews, not including the millions of Palestinian refugees outside of Israel and the occupied Palestinian territory.  The only way to manage this demographic reality is to kill or 'encourage' as many Arabs as possible to leave.
Israel's racist practices and significant violations of human rights are not because of the security threat to Jews themselves; the mere existence of the Arabs is the threat to the concept of a Jewish state on the land it currently controls.
It is time to let Americans and Jews, who so overwhelmingly support Israel and who are complicit in its violations of human rights, understand that the choice is a racist Jewish state that has to violate human rights or a real democracy where Jews are a minority.  The violations of human rights are not the problem; they are merely the symptoms of a myth of a democratic Jewish state.  A Jewish state, with anything close to the land area of the current area controlled by Israel, never could, nor still cannot, coexist with equality, human rights and international law. 
Only by acknowledging the flaw that a Jewish state in Palestine has and will continue to require, the extensive violation of human rights of its Palestinian people, can we then work to seek a solution where all peoples in Palestine have equality, dignity and human rights.
So, in effect, it is Americans and Jews who really provide Israel's security, it's ability to even exist.  If Jews across the world clearly stated as I saw on a Center for Jewish Nonviolence T-shirt: "Occupation is not my Judaism", and that Israel does not represent them each time they hear someone saying, 'the Jewish state', then how would its leaders describe it?  Only Jews can demand the Israeli flag not include the Star of David.  What legitimacy would the state have without representing Jews?
Similarly, if Americans stood by their values of equality, freedom and self-determination, then where would Israel be?  It could no longer claim to be a victim but have to face its oppression of others.  With Americans' leadership, Israel can be held accountable to provide equal rights and the right of return to its refugees.  Only Americans can save Gaza with an airlift, like we did in Berlin in 1948-49.  We can finally be free of our complicity in crimes against so man.
---
Interactions and Materials Affecting Environment  | Emma J.
Military presence and eclectic reading. In Palestine/Israel, myriad soldiers with machine guns inhabit the public spaces. I wasn't used to the military in the forefront of my environment. With only 1 percent of the U.S. population serving in the military, national service seems abstract, out of sight and out of mind. But in Israel, everyone is required to serve for three years.
Young men and women, who oftentimes stand casually and look bored and ready to be off their shifts, become part of the background. Yet, you always know the military is there. The Israeli government projects a presence, a constant surveillance where you know they're looking and they know you know they're watching.
I saw a variety of magazines at a small shop at the airport in Tel Aviv: Fashion, home decorating, celebrity gossip ... and military equipment as just another magazine among them. Who is this customer? Of course, I want to read about the latest lipstick and then find out about the innovations for the next models of machine guns!
Concrete doesn't equal permanence. Another visual in the environment is the apartheid wall. The concrete divides Israel from Palestine for miles, and more is planned.
The material of concrete suggests permanence.
At Dheisheh refugee camp in the West Bank, the Palestinians carry the mentality, and pass this mentality down to their children, that despite their concrete housing, the situation isn't permanent. (In fact, they lived in tents and held off on living in buildings made of concrete.) In spite of its material, this is temporary housing and they will return home since international law recognizes the Right of Return. An enduring material doesn't mean the situation will also last forever.
Driving, sometimes the road becomes monotonous. In Palestine/Israel, the tall concrete slabs that comprise the apartheid wall are the same rectangular shape repeated over and over. The wall is an ugly concept, but by repetition I get used to it.
But familiarity shouldn't equal normalcy.
---
Al-Naqab or Negev?  A Bedouin Reality  | Tod S.
The visit by our group to the al-Naqab Desert produced some very valuable information. Our visit with a Palestinian Bedouin village laid out in stark clarity the oppression faced in the area.
Israel has taken over much of the land, and co-opted even the traditional names of the villages in the Naqab. The Israelis call the desert the Negev, and now assert their identity on the region which was once entirely Palestinian Bedouin. It is an arid region where few ventured prior to the 1948 Nakba.
Umm al-Hiran is one of 46 Bedouin villages in the region, and it has been besieged by the Israelis who slated virtually every building for demolition. This to make room for Israeli "settlements", which are more accurately labeled "colonies."
During 1948, approximately 90,000 Bedouins were expelled of a population of 101,000. They were forced into neighboring Jordan and Egypt primarily, never to return. Those that tried, were branded as outlaws, and faced summary execution if spotted by Israeli forces. Israeli military rule of the region ensued from 1948-1966. Israel confiscated most of the land during this period and only 10% remained in Bedouin hands at its conclusion.
Since then, Bedouin villages have been virtually quarantined, and Israeli colonists have been encouraged to settle the area. Bedouins remaining have been enticed to urban centers, where Israel has built low quality small cities with running water and electricity.
Many Bedouin have resisted though, and remain in the 46 remote villages, where their family, traditions and ancestors have long been. They have no electricity and little water available for them, this despite the fact that encroaching Israelis are instantly given these resources, as well as transportation to nearby schools, medical services, and whatever else is needed. Small Israeli family businesses are encouraged to encroach on the region. One Israeli family plot we saw was set up as a dog boarding house and mortuary, just miles from where Bedouins struggled for a basic level of existence.
Despite getting court rulings in 2015, and 2016 allowing recognition of a hand full of these Bedouin villages, they are still at risk. We saw an Israeli settlement in the nearby forest, with the actual name of a Bedouin village. The plan was for the new Israeli colony to replace and erase the Bedouin village – it's namesake counterpart. This strategy, which is played out all over the Palestinian areas, is an effort to fully co-opt the Bedouin heritage and replace it with an invented artificial identity.
Today the number of encroaching Israeli settlements and family run operations has reached 60, and they compete directly with the 46 Bedouin villages (35 unrecognized and not on any official Israeli maps) who are on the edge of extinction. Bedouin numbers have grown however, as the 11,000 that remained have since turned into a population of over 220,000. Bedouins control just 5% of the land, and Israeli expansionist colonialists have made it clear they want it all.
It is crucial the world knows
the plight of the Bedouin people
. They are a warm, hospitable and friendly people who open their doors to any who come. They have many beautiful children and are hopeful for a future for all of them in the land of their forefathers. Like other Palestinians we met, they hope for an equal chance at success and nothing more. They are a peaceful people.
---
A Balanced View  | Sharon C.
Before I left on this trip to East Jerusalem and the West Bank, someone asked me if I would be presented a balanced view. "Balanced" is a code (tip-off) that a person is unaware (clueless) of the Apartheid here.
I know the words I choose reflect my bias but when I am overwhelmed with rage and sadness of the injustice here, I want to use words that are direct, forceful and call a spade-a-spade. But I know if I want to kindly educate an uninformed person, I should use milder words. But hearing and seeing the illogical. erratic, arbitrary racial discrimination of the Occupation, it is difficult to use soft words.
We have been talking to dozens of people who are impacted by the Apartheid system of government here. There are so many injustices, the few I'd mention are only a small fraction of an institutional system that is not held accountable:
The Bedouin woman who had her 300 sheep poisoned by settlers (colonizers) and the few remaining ones couldn't be milked;
The refugee camp where our house host has laundry piled high because the camp only gets municipal water every 2 weeks, sometimes only once a month and they have to buy private water at exorbitant prices;
Our Hebron guide who can't walk the streets that we and the Jews can because he is Palestinian and has to cut through the cemetery to meet us at the end of the route;
The counselors from the YMCA treat children for PTSD because kids are ripped from their homes in the middle of the night and ill-treated from the moment of arrest, then detained in Israeli prisons for anywhere from 3-12 months. These arrests and rearrests affect everyone in the community.
Biblical Judaism is not the same as Political Zionism. The first is a religion, the 2nd a land grab to create a Jewish (religious nationalist) state. Zionism uses Judaism to further their goals. Zionism is about control and the legalization of terrorism against the Palestinian people, it is not about religion. Seen on a t-shirt, "Occupation Is Not Our Judaism". Anti-Zionism is not the same as Anti-Semitic (Palestinians are also Semitic). Zionism is a strategic, systematic colonizing plan by the Israeli government to "maximize land and minimize Palestinians". It is called the "Silent Transfer" They make the lives of Palestinians so miserable and intolerable that they will voluntarily leave.
The Wall here is OBSCENE! 600 miles, and more to come (85% of it in occupied territory). It is one wall, making two prisons. We visited Claire and her husband's home and business - walled in on three sides. She had to petition to stop the 4th wall. It has destroyed her business and the other thriving businesses in this area. She must travel a long circuitous distance to visit her uncle who lives a block away. The only reason they didn't put the wall down the middle of her street, is because a sewer pipe runs under it. If you are against Trump's Mexican border wall, our tax payer dollars have underwritten this one.
Everything in this country is based on racial profiling. If you are a Jew (the desired population), coming from anywhere in the world, you can become a full citizen with every privilege and right. With no constitution, the indigenous Palestinians are second class citizens. The legislature makes laws that are illegal by international standards. There are two sets of laws here. Israeli Jews can violate Palestinian rights with impunity: steal land, demolish houses destroy people's livelihood, imprison with no charges, the list goes on.
There are way too many 18 and 19 year olds walking around with M16s, even at city bus stops. The US gives Israel $10.2 million each day ($38 billion over the next 10 years, a 20% increase from previous US aid agreements of 3.1 billion annually)! This is the most military aide given to any country in our history (even while Israel continues to expand the illegal Jewish settlements.) That spending is evident everywhere: soldiers, surveillance cameras, watchtowers, nearly 600 barriers and military checkpoints (not counting temporary surprise "flying" checkpoints), fighter jets or drones flying over us, electric fences and unseen sophisticated technology. When you are over-militarized, you don't have to think about peace.
Everything here is backward and upside down from how Israel brands itself in the US.
Israelis terrorize Palestinians in the name of security. We stayed in the Dheisheh Refugee Camp. Israeli soldiers raided the night after our stay, which they do 3-4 times a week. The majority of children are arrested in the middle of the night. Children are woken with guns in their faces. Soldiers take them to prison without telling their parents where they are taking them. Arrests are made with no warrants, charges or evidence. Our host Naji spent over 10 years in Israeli prisons, his sentence at 14 was for throwing stones. There are over 7000 Palestinians political prisoners, including 500 under administrative detention (without trial or charges) and 300 children under the age of 18.
The laws are bifurcated and are applied by nationality. Only Palestinians are tried in military courts. In military courts a military officer writes and signs the laws and there is no oversight. Jews are tried in civilian court where the laws meet International standards and Israelis have rights and protections.
As we went to enter our hosts house to spend the night, we were told by soldiers posted outside that there was a new law that tourists couldn't stay with Palestinians. It's as if they make the laws up at whim. With every encounter with a soldier you know your place, you are always conscious that you do not have power and you are at the mercy of their mood that day. As a Palestinian you can get up to one year sentence for insulting the honor of a soldier.
Colonizing the mind goes hand-in-hand with colonizing the land. The Arabic language is erased from street signs and cities renamed in Hebrew (Romans did this to Jews in ancient times). Driving around the country on roads allowed only for Jews, Palestinian villages go unnamed. The Israeli flag is flown everywhere, Palestinians suffer grave consequences for showing theirs and I very rarely to saw one. Israeli are allowed to spray hateful graffiti on Palestinian property. Palestinian history is absent from schools. There is a strategic plan called Judaization and is meant to eradicate anything Palestinian.
Checkpoints suck. We went through Qalandia Checkpoint, it is time-consuming, inconvenient (putting it mildly), unpredictable and humiliating. It is a hundred times worse than going through airport security. Thousands of people will go through a checkpoint to get to work every morning and have to do the same at night, always being suspect. You can easily be detained or sent back. Between the wall and checkpoints, its remarkable that any young Palestinians persevere and get a university education.
Everything here, living under Israeli military occupation is about restriction and humiliation.  I am a white privileged foreign visitor who can leave this Jim Crow country. I can't say this softly, the government's polices here disgust me, every day I have been filled with rage at an illegal colonizing system that is not held accountable by anyone. They treat one set of people, the Jews as superior to the "other".  I could never forget which side I was on. If you are Palestinian this the land of a million cuts, cuts to: your freedom of movement(in and out and within your own country), your future aspirations, your pride, your health access and education, your right to be innocent before proven guilty, even extrajudicial killing.
Palestinians' main form of dissent is non-violent resistance. We listened to Omar Barghouti, founding member of Boycott, Divestment and Sanction (BSD) movement - a non-violent effort against multi-national corporations that are complicit in the settler-colonization and with the goal to pressure Israel to comply with international law.
Companies don't do morality unless they are forced to. It is a task of the world "to do no harm" by withdrawing our cooperation. Israel has labeled the non-violent BDS movement as a "threat" equivalent to the threat of Iran and also try to link it to anti-Semitism.
Whether one state or two state, the discussion is about basic human rights. Hearing from so many different Palestinians, I am so impressed with their dignity and perseverance. Never once did I hear a desparaging word against Israelis, it was always about their policies. They were so grateful that we took the trouble to come to them to hear their stories. And so very hopeful that we would go back to our countries and advocate for them. One Palestinian asked us to "take responsibility and please be faster so Palestinians do not die".
I don't know where this phrase comes from, "To be awake in a land of sleepwalkers" but I ask you all to start waking up to the taxpayer funded Apartheid system of oppression and injustice that Americans are supporting in this country.
Does Israel have a right to exist? Yes. BUT NOT UNDER THESE CONDITIONS.
---
Reflections of an Evangelical  | Michael S.
On your average passport, there are sections for nationality and citizenship. For most countries, the terms are used interchangeably, but in the State of Israel they mean two very different things. Citizenship is the name of the country one resides in, while nationality refers to one's ethnicity. Hence an average Israeli passport reads citizenship "Israeli", while nationality reads "Jewish" or "Arab".
In 2013, a linguist by the name of Uzzi Ornan challenged the Israeli Supreme Court to add an Israeli nationality on the grounds that both Arabs and Jews are Israeli, but the high court ruled that was not possible because, "there is no proof of the existence of a uniquely Israeli people."
In Biblical history, the nation of Israel divided into a nation to the south called Judah and a nation to the north called Israel. The two peoples did not get along. In the end, Judah took gold out of the temple in Jerusalem and paid the King of Assyria to destroy the nation and enslave the people of Israel, scattering them across the Arab lands. The story is found in 2 Kings 16.
Yet the prophets declared Israel will return. Here the Jewish nation is selling this promise to the world, yet they do not believe it themselves, for through their own courts they deny the existence of such a people. They enter through the dung gate to weep at the wailing wall, but not one tear for the blood they shed of historical Israel, the people sold through that very temple. Nor a tear for the blood of the same people they are shedding today.
The world - through the United Nations - passed laws for refugees, laws that originated from King Cyrus of Persia in 539 B.C. stating, "unacceptability of the acquisition of territory by force and often concomitant practice of population transfer." It was this same law that allowed the Jewish refugees to return home from their exile in Babylon, yet when this same law is cited for the right of the Palestinian refugees it is deemed unjust.
I see a nation stained with the blood of their brother. I see people flooding into the holy sites to find God without pity or remorse for the Palestinian genocide that is being supported through their churches and tithe. I have a question for the Zionists and the Evangelicals, what will you do if the God of Israel is not the God of the "uniquely Israeli people" of which the court found no proof, but the God of the people who are being murdered and pillaged?
---
Only Democracy is the Middle East  | Sarah

The Third Amendment of the United States reads, "No Soldier shall, in time of peace be quartered in any house, without the consent of the Owner, nor in time of war, but in a manner to be prescribed by law."

I have always been struck by that amendment, have found it difficult to imagine a time when the state would have plundered its own citizens in that way. I've grown up believing that the rule of law protects private property.

Not in Israel!

In the Jordan Valley, the Israeli military routinely conducts military exercises on land where Palestinians have their homes, farms, workplaces. When the military decides it's time for some training, it abruptly turns families out of their homes, with little warning and with no shelter for the hours--or days--while it is using their land/houses. Property is damaged; structures are destroyed and unexploded ordnance is left in the fields.

Today we met with two council members from the village of Attuf, near Nablus. They described the impact that this has on their community. Trainings actually take place inside people's homes--and families are not compensated for damage. Their water network has been damaged twice. In 2016, 30 structures were demolished during these "trainings." 22 families were forced to live in tents for three days. These military exercises displace people as often as every four weeks.

Is this how a "democratic government" treats people whose safety it is responsible for?

Is this the best the Israeli army can do for military training purposes?

It seems more likely that the purpose of this practice which involves driving families off their land is in fact driving families off their land.
---
Coming Home to a Bat Mitzvah  | Carol M.
In this bizarre thing we call life, less than 10 hours after I returned from Palestine, I attended a Bat Mitzvah for a 71-year-old friend at the Romemu synagogue on 105th Street and Amsterdam Avenue in Manhattan.
I barely had any sleep in the last few days as the last rush of the trip and having to leave for the Tel Aviv airport at the god-awful hour of 4:00 am. So, to say the least, I was exhausted and quite vulnerable. This congregation is unique in my experience. I am Jewish, but quite secular, so my experience could be limited. The only word I can think of to describe it is "ecstatic."  The joy on everyone's face, especially my friends was a shock to me. I was happy for her, but I didn't understand it at all.
The rabbi made the usual statement about Palestinians and Israelis, finding peace. Before the trip, I might have been pleased to hear a statement like that – no blame, treating them like equals, which of course they are not.
Now that I am home, what I learned from the trip is the pretty statements like that are nice, but meaningless if there is no action tied to it. It's one of the big lessons I learned.
Then, the rabbi started talking about "Jerusalem Day." And everybody was shouting in support. I immediately felt claustrophobic, but my response was to start sobbing. I was there when Israeli nationalists marked Jerusalem Day, and it was not a joyous occasion for the Palestinians who lived there.
There was so much noise, no one noticed my anxiety. What I really wanted to do is scream: "Don't you have any idea what Jerusalem Day was like in East Jerusalem and in the West Bank?" They were clueless. I got myself together and was only able to keep myself under control, thinking that I didn't want to ruin my friend's special day.
It may seem that this reflection is about me, but it is not. 
It is about Bassam an Afro-Palestinian who has a beautiful shop in Jerusalem's Old City. My friend Bonnie and I stumbled in there by accident. I saw a glimpse of a postcard that looked different than the others I had seen. I was right. He said he had the only collection of "political" postcards around. There were ones showing a female Israeli army soldier next to a Palestinian woman at a checkpoint. It's an image of power. Then there were ones showing a family who had lived in a refugee camp for 70 years. A postcard against house demolitions. And of course, pictures of the wall. And many more. The shop was beautiful and it functioned as a café as well. Chairs and sofas covered in beautiful bright colored materials.
Then Bassam showed us a video on his phone about what happened in the Old City to his best friend on Jerusalem Day, the day before. If you were in East Jerusalem that day, and were Palestinian, you had to close your shop and stay indoors. If not, you could be beaten by Jewish Israeli fanatics or the Israeli army and police.
Bassam's friend was with his 8-year-old son and they were leaving the church in the Old City where he worked. He was immediately beaten by an Israeli Jew and then the Israeli police beat him his well - all in front of his 8-year-old son.
I've learned that these beatings are often purposely done in front of children, so as to belittle and humiliate their fathers. What does a child think who sees his father, who is supposed to be strong and protect his children, when he is savagely beaten in front of them?
Then of course, they arrested Bassam's friend.
This is a story that happens all over East Jerusalem and the West Bank every day.
When brought before the court, the judge wanted to release him, but the police said no. The judge said they had until 8:00 that night to come up with charges.
I don't know what happened to Bassam's friend. I hope he is with his family at home, safe (for the time being).
That is what I was thinking about in the synagogue when the rabbi was talking about Jerusalem Day.
---
The Power of Words  | Callie W.
During our trip, all who spoke to us chose their words deliberately and explained why they selected one word over another. It had its effect. Those of us who previously referred to a "security fence" soon shifted to refer to such a barrier as an "apartheid fence."
Here, in no particular order, are the words that were new to me:
human rights
normalization
demolition
annexation
settlers
ideological settlers
colonists
security fence/wall
apartheid fence/wall
occupation
colonization
gentrification
action
demonstration
judaization
intersectionality
interactive
human dignity
Other words surfaced during group orientation, as well as when processing our experiences, analyzing our own interactions with each other and thinking how we will share observations for action and strategize with the community. Here are some of those:
collective space
intergenerational trauma
microaggression
trigger
unpack
unwind
move in space
evict
dispossess
And while reading the Washington Post I realized how slippery the word "normalize" is. Normal for Israel is domination through colonization and abuse; for Palestine it is self-determination, justice and human dignity.
These are only my words. Every member of the delegation probably has their own words or phrases that opened a deeper understanding of themselves and the struggle for human dignity we were witnessing. The very word "Palestine" now has a richer more nuanced meaning than I could ever have anticipated.
---
We invite delegation participants to comment on and react to the experiences they have during our Israel/Palestine delegations in written Trip Reflections.

Individual delegates contribute pieces to these reflections. As such, reflections are not comprehensive accounts of every meeting or experience, but impressions of those things that most impact individuals. Submitted reflections may be edited for clarity or brevity. Trip reports do not necessarily reflect the views of Interfaith Peace-Builders, trip leaders, or delegation partner organizations. We hope you enjoy reading and we encourage you to share these reflections with others.
---

DONATE: Support IFPB in sending more trips


---

TRAVEL: Sign Up To Learn About Future Trips