< Report Five: "Isn't That Enough?" >
Today's Realities and Tomorrow's Leaders
Delegation to Palestine/Israel
August 21, 2013


Reports and Photos from IFPB's 47th Delegation (August 2013):

Delegation 47 Announcement
Report 1: Our Long Arrival
Report 2: Multiple Faces of Jerusalem
Report 3: Against These Odds
Report 4: "Out Of The Same Place"
Report 5: "Isn't That Enough?"
Report 6: "Such Big Meaning to Us"

Editor's Overview: In this report, delegates talk about their experiences in a number of Palestinian towns and cities.  Delegates visited Jenin and Nablus in the northern West Bank, and spent the night with families in the New Askar Refugee Camp near Nablus.  Delegates also visited Bethlehem and Nabi Saleh, a village resisting the takeover of its water well. 
Stories below detail impressions about the reach of military occupation, the issues facing refugees in the camps, the role of US tax dollars, the impact of staying with local families, the role of art in addressing trauma, and much more.


---
The Pursuit of Freedom
By Nadya Raja Tannous
Walking around any primarily Palestinian city, the posters on the walls are hard to miss. As we walked through the old city of Nablus, all of their printed eyes stared down at us from serious faces. They are the faces of "martyrs", the ones who have been killed by the Israeli military during night-raids, sniper attacks, and bouts of intensely visual and violent military or settler presence. Next to their pictures are their names, their dates of death, and a few words regarding their lives and premature passing.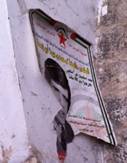 At one corner, we stopped next to one with a young man sporting an outdated curly comb over, a plaid dress shirt, and a date of death that read May 18th, 1976. It was puzzling to me to see a remembrance tract left for someone who had died almost 40 years before. The group stared intently into his face, at which point the guide asked us "who here has heard of the Graveyard of Numbers"?
The lives of Palestinian people under military occupation are filled with injustice and deceit but nothing exemplifies the complete control and ruthlessness of the Israeli Occupation as what happens to them after death if they qualify to enter the "Graveyard of Numbers". If a Palestinian from the West Bank is considered to be guilty of a crime by the State of Israel upon their death, the Israeli military can collect that person's remains and place the individual in a trial post-mortem. After the trial process, a sentence is assigned and the body is taken to a storage facility inside of Israel and held in detention until the sentence is fulfilled.
This man looking down at us was named Hafith Muhammad Wahid Abu Zanat and his corpse was condemned to 20 years in prison. During this time, his family's rights to burial and/or viewing of his remains were revoked until the 20 year jail period was carried out to term. In 1996, Hafith was returned to his family in Nablus, marking the first time that they were actually able to see him and mourn over his remains since the day that he was shot and his body was initially removed by the military.
Our guide told us that he was present when the Abu Zanat family received their son. His old father stooped over the casket and opened the lid only to find, of course, his son's bare bones, his recognition long gone with the process of time. Additionally, there was no assurance that these remains even belonged to Hafith.
This is not the kind of homecoming that I would wish on anyone. I see this policy as a way to intentionally prolong familial and community mourning in order to cultivate greater desperation, hopelessness and defeat in other aspects of Palestinian life. For, as long as the remains have not been returned to their family for burial and ceremony, it is essentially as though that person is still alive, still incarcerated, with no control of their life even in death.
Furthermore, the "jail" holding facility purposefully does not catalog the remains that they process by name. It instead estranges the individuals from their identity by assigning them numbers after the court process and immediately stripping them of their name both on paper and in references for the future return to their families, hence the colloquialism the "Graveyard of Numbers". Thus, when the body is finally returned to the family, the name of the remains is not released along with them. This often necessitates a very expensive DNA test, paid out of pocket by the family members, in order to check if the bones match up with the identity of their loved ones. 
This form of arbitrary bureaucracy is ultimately a method of dehumanization and disenfranchisement that aims to remove martyrs' families from any sort of cohesive healing process.
Incarceration of Palestinian individuals, both living and dead, contributes to the daily obstruction of general civilian movement and control over their basic livelihoods. Such aims are all part of the same network of demoralizing policies that are implemented by the State of Israel to remind the Palestinian people, Zones A, B, and C, that they are not free and will not soon be free.
Even in death, escape requires permission.


---
Ana En Mi Corazón
By Lauren Ballester
Friends, this is a difficult one for me. So much has happened over the last few days, but there is one thing lying unbearably heavy on my heart. A memory rushing to the surface.

Yesterday we spent some time in the New Askar Refugee Camp, a Palestinian refugee camp near Nablus. Walking through the streets felt like home. It felt like Haines street, it felt like Mexico City, it felt like Santo Domingo. Everybody knows each other, everybody cares for each other, and everybody knows what it means to be displaced in one way or another. This felt warm and safe, which was ironic seeing as this is one of the places many people would be shocked to hear I visited. It's what they refer to when they say Lauren, stay safe.

Amjad gave us some background on the history of New Askar Camp and all of the programs they have. "We are simple people" he said, "but there is not anyone hungry here. There is not anyone homeless." For everyone we passed by, he would say this man was in jail for five years, this one for ten.
Towards the end of the tour he took us to the grave sites of seven people who were killed by rockets, bullets or in one case, sadness. He told the story of each one. How one was blown to pieces, his arm found atop a restaurant umbrella days later. A father who suffered from asthma and died shortly after his son was killed by a rocket. One of these was Amjad's best friend.
Through all these stories I could think of only one thing: my great-grandmother, Ana. She was a fierce, loving, intense 98 year old who had seen so much joy and sorrow in her life it could fill a city. She was murdered in her own house in 2010 by a 15 and 17 year old in a standard robbery. I still remember getting that phone call from my dad, hanging up the phone, collapsing to the ground and sobbing uncontrollably.
When I heard Amjad telling this story, I wanted to collapse again. I can't imagine this happening to my family seven times over. Or to my best friend, or my sister. Ana's death was debilitating for me for weeks after it happened, and it still makes me cry whenever I think of her. I only had the pleasure of meeting her a few times in my life.

How can people go on living their lives when this is happening? It is not only their land, their movement, their water that is being occupied, but their spirit. This community has banded together and allowed all the things that are trying to tear them apart to actually bring them together. This gave me a sense of incredibly deep and profound hope and admiration.

Ana, you are not forgotten. Palestine, you are not forgotten.
This report is excerpted from the original post on Lauren's blog. For the full post, see http://icometothehomeoftheabsent.blogspot.com/2013/08/ana-en-mi-corazon.html


---
Refugees
By Sydney Levy

Yesterday we spent the night in the New Askar Refugee Camp outside of the city of Nablus. Most of the refugees came during the Nakba from four cities: Jaffa, Haifa, Lod, and Sheikh Munis.
Only a few days earlier, we had taken a tour of Jaffa, the city that had been the commercial center for Palestinians until 1948, trying to understand what had happened, what was the fate of the Palestinians that remained, and how the whole city was swallowed by Tel-Aviv, and in the process its Palestinian past is being erased.

Our host in the New Askar Refugee Camp was Amjad. His family came from Jaffa. It is hard to understand how a family that used to live by the wide expanses of the Mediterranean Sea is now warehoused, together with over 6,000 people packed into a one-square km area. Conditions are so crowded, that men in the camp have a saying, "if you want to shave, your neighbor can hear you."

The yearning for the sea is common one among a number of Palestinians we've met in the West Bank. Here's one example of many, from another Palestinian from the West Bank living 35 miles from the sea: "The first time I saw the sea was not in Palestine, but in France. I was 22 years old."

The New Askar Refugee Camp suffered through the First and Second Intifadas. The Israeli military incursions have not stopped, however. The night that we were there, things were calm. But that very same night the Israeli army had entered the nearby Balata Refugee Camp.

Our hosts in New Askar are focusing on an education and rehabilitation center. The effect of so much violence, has physically disabled some children, and has created indelible emotional scars on all of them. When they see an Israeli soldier entering into a civilian area and targeting their parents and the world they call home, and when they see their parents fully unable to protect them, their sense of security collapses.
When they see their fathers going to jail - most men in the camp have been in Israeli jails at some point in their lives - the children's sense of protection is gone. Amjad himself had spent a number of years in jail, from 15 to 21 years old.

At the camp, we were offered food with the gracious hospitality so typical in Palestinian society. Amjad reminded us that they do not lack food, and that they did not need our money. All they wanted was justice.


---
Glimpse of a Home Stay
By Shamika Norman
This morning I left my home stay family. Since, their English was very minimal, it was not possible for me to communicate with them much about their lives under occupation. This was in the New Askar Refugee Camp near Nablus.
It broke my heart to see the way that they had to live. Yes, they did have furniture and decorated walls to look aesthetic, but the overall living condition was substandard.
Water is scarce for those who are living in refugee camps. That is why I made the conscientious decision to not shower after a long hot day. There was not anyway that I would take anything so scarce from these people. Seeing how their homes were constructed and how they had to get water, opened my heart to their dire needs. While I am the last person to make decisions based on emotions, I have to make an exception for this one. It was heart breaking looking at how these people had to live under the occupation.
I do not know if I would have been able to survive if the tables were turned. It makes me want to see an end to the occupation.


---
Tweets from the Delegation
Delegates have shared their observations throughout the trip on Interfaith Peace-Builders' twitter stream. Below is a sampling of recent tweets. For more, follow @IFPBdelegations:
There are 600 Israeli check points. Only 17 are between Israeli and Palestinians towns. The rest are in Palestinian territories #warisprofit

— Bo Outland (@Outland38) August 14, 2013
Bedouin village facing severe poverty and also face displacement again. #israel #ifpbdelegations #warcrimes http://t.co/OlLsPJrFDq

— Bo Outland (@Outland38) August 17, 2013
To right settler highway. To left Palestinian road. @IFPBDelegations #segregation pic.twitter.com/1Ip0RNrYxa

— Sydney Levy (@sydnow) August 17, 2013
Walking today in old city of Nablus, I came across the graveyard of numbers #IFPBdelegations http://t.co/cqszNk3yuT

— Sydney Levy (@sydnow) August 18, 2013
"No normalization until the occupation is over. No liberation without an end to the occupation." - Zoughbi... http://t.co/okVoE1EFPZ

— Kristian D. Bailey (@kristianbailey) August 19, 2013
In W. Jerusalem, I see posters for Mickey Hart band (Grateful Dead) performing in Israel. Aware of boycott over Israeli occupation/racism?

— Jeff Cohen (@jeffcot) August 19, 2013
---
Today's Stories
By Kristian Davis Bailey
Today's stories have been touching my heart very deeply. This afternoon, we spoke with Niaz, a Palestinian worker and union member who told us we were the first group of Americans who have come to speak to him. The following is a translation of his final comments to us: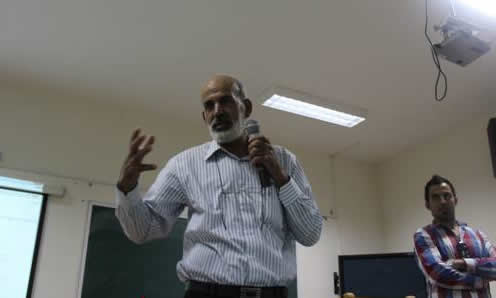 "The Palestinian worker will always be a poor worker, oppressed worker. Without the help of unions and without the help of people, we will not get out of the oppression. As American people, do not believe the media what the media says - even what the media says from the Palestinian government side. No matter what happens the Palestinian worker continues to strive, continues to struggle. And whatever support comes to the Palestinian people never reaches the actual labor workers. Therefore I wish whatever types of support that comes here does not go to the government but goes to the labor workers and the people directly, bypassing the government."
This report is excerpted from the original post on Kristian's blog. For the full post, see http://postcardsfrompalestine.com/post/58813896196/todays-stories-have-been-touching-my-heart-very


---
Emotional Overload
By Vic and Barby Ulmer

The clear recognition of the trauma people are going through on a daily basis, and especially the children was met with opportunities for creative activities in so many centers: Jenin Freedom Theatre, The Social Development Center in Nablus, the New Askar Refugee Camp, Human Supporters Association, Wi'am Agape Center.   Even the Bedouin Camp we visited had murals on the school walls! Everywhere there were murals and art, dance and music.

And the need became even clearer when we visited Bi'lin where the people have been protesting the wall nonviolently for years. They've built a colorful imaginative playground for the children.

And Nabi Saleh, where the villagers have been tear-gassed not only on the street but in raids into their homes with children present. So strong was the gas that mothers were putting children out the window to get air and begin to breathe.

The trauma when children perceive that their parents can't protect them is stark. Even with psychologists helping for over a year the trauma is still present. And to add to our agony some of the tear gas canisters were made in Pennsylvania and our US tax dollars paid for them!

Isn't that enough to get us angry enough to write to our elected officials and Secretary Kerry?
We can also join in calling for boycott, divestment, and sanctions.

---
We invite delegation participants to comment on and react to the experiences they have during our Israel/Palestine delegations in written Trip Reports.

Individual delegates contribute pieces to these reports. As such, reports are not comprehensive accounts of every meeting or experience, but impressions of those things that most impact individuals. Submitted reports may be edited for clarity or brevity. Trip reports do not necessarily reflect the views of Interfaith Peace-Builders, trip leaders, or delegation partner organizations. We hope you enjoy reading and we encourage you to share these reports with others.
---

SUPPORT INTERFAITH PEACE-BUILDERS!

Nothing better prepares activists to work on the conflict than eyewitness experience. Your donation will further the education and engagement of new participants and build a larger, more diverse movement! Click here to donate online!


---

TRAVEL TO ISRAEL/PALESTINE WITH INTERFAITH PEACE-BUILDERS!
Your participation as an eyewitness will enrich your understanding of the conflict and empower your work back in the United States! Click here for information on upcoming delegations.