< Reflection Two: "I want my right to live as all people of the world are living."
July-August 2015 Delegation to Palestine/Israel

Updates from the delegation:
Overview: The group has been busy over the past few days, traveling from Jerusalem, to Bethlehem, Lydd/Lod, and Jaffa!  In the second collection of reflections from the July 2015 delegation Chris Affleck and Stephanie Langer discuss "Judaization" that is occurring in Jerusalem and Lydd.  Ron Werner reflects about what it might be like for his children to grow up in Bethlehem and Amber Gilewski reports on meetings with an Israeli refuser, the Jaffa Youth Movement, and Boycott from Within.


---
More than Just a Garden | Chris Affleck
On Tuesday we visited Silwan, a Palestinian neighborhood in East Jerusalem where Israel has a master plan to destroy the houses of about 1500 people (88 families - who are living there in very crowded conditions) in order to create a Biblical garden; the Garden of King David. This area was chosen because it is attached to the Old City.
It seems the Israeli government wants more than just the garden, however, since they are also moving settlers into houses in the neighborhood, currently paying them, we were told, 500 Shekels (about $125) a day to live there. So far, 54 Israeli families have taken the offer and we could see Israeli flags flying from some apartments. 340 guards are stationed there in shifts to protect them 24 hours a day. It is estimated that Israel is spending $6 million Shekels a month (roughly $1.5 million) on the "Judaization" of this neighborhood.
Palestinian civil resistance and skirmishes with the police occur regularly. Arrests (often of young boys 8 to 16 years old) are made nightly and housing demolitions frequently occur in the early hours of the morning.
We met with a community group of young Palestinians who have constructed a tent for social events (and to demonstrate their presence) and a club house below. They have a soccer team, a Palestinian folkloric dance group, a summer day camp, and other programs. Language classes are also taught there.
When asked what they hope for the future one said: "My ancestors have been here for hundreds of years and I can tell you their names. I am not someone who came in on a plane two years ago. I want my right to live as all people of the world are living."
Here are some pictures from this visit: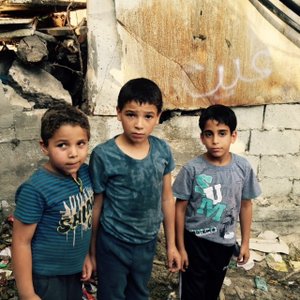 These children attend a kindergarten in the area that the Israeli municipality is planning to destroy.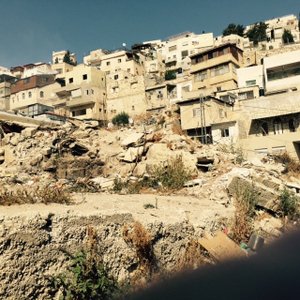 This is the remains of a demolished Palestinian building.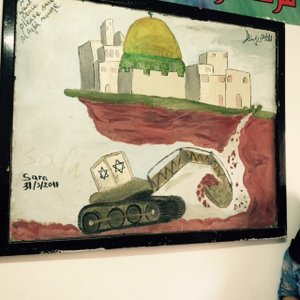 There is a lot of street art on the walls in this neighborhood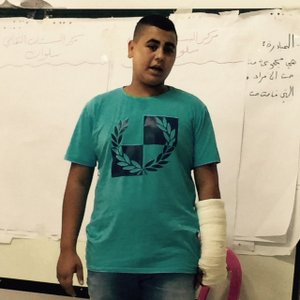 This Palestinian boy was first arrested at age 9. The police came to his house looking for him at 3 AM. They said he had been throwing rocks. His father offered to bring him to the station the next day. The demanded to know the names of all the children in the house. He was questioned for 8 hours and detained for a week. He was injured in a more recent arrest when the police threw him on the ground and dragged him along the asphalt.

---


O Little Town of Bethlehem | Ron Werner

Trying to imagine what it would be like for Dylan and Averie, [my children], to play and grow up in the shadow of the separation wall. Spending time this morning in the little town o Bethlehem.

---
 A Meeting with Sahar Vardi | Amber Gilewski

I was excited to meet Sahar Vardi, an Israel Program Coordinator from the American Friends Service Committee (AFSC),  in East Jerusalem (and fellow vegan) at the end of the day. This committee has been a leader in promoting speaking engagements in the U.S. of Israeli refusers who are conscientious objectors to serving in the IDF, Israel's military.

Sahar was born and raised in Jerusalem and talked in detail about the militarization of Israel and how completely normal it is to see large amounts of weapons on the streets. She also discussed "teacher soldiers" that are frequently used in understaffed and underprivileged schools, teaching completely unrelated subjects with no training. She talked about the treatment of women in the military as supportive roles and the sexual harassment and demeaning terms used to describe them such as "platoon mattress" and "skirt." We learned that Israel is a top exporter of weapons in the world and that it's not AIPAC that has the biggest lobby for Israel in the U.S., but Lockheed Martin.

Sahar humbly told our group about how she became a refuser. She started going to the occupied territories since she was 13 or 14 as a protester in Bil'in. She stated in regards to the IDF at protests, "When you are shot at enough times by them, you don't want to join them." She spent 2 months in prison and another 3 months in detention for her refusal to serve and was released (as many commonly are) for mental health reasons. She told us about an organization called New Profile, founded as a feminist movement to demilitarize Israel. Sahar is a beacon of hope amongst Israeli society and youth and more light needs to shine on people like her who refuse to take part in Israel's crimes against humanity.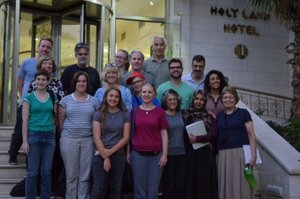 The group with Sahar at the hotel

Originally posted here: http://vegansagainsttheoccupation.com/2015/07/29/bethlehem-israeli-refuseniks/
---
 Art & Activism | Stephanie Langer

Thursday morning we drove to the town of Lydd/Lod, which is near Tel Aviv, and about a one hour bus ride from Jerusalem. The town consists of three neighborhoods, the first is Jewish settlements. The second neighborhood is mixed, however primarily low-income families live in this area. Jewish residents usually cannot afford to leave. The third neighborhood is Israeli-Palestinians. Our guide Tamer Nafer is a Palestinian citizen of Israel born in Lydd. Before the war of 1948 this city had a population of about 98% Palestinians. Today the population has dwindled to about 25% Palestinians and 75% Jewish. Approximately 2-5% of the original families still live in the town.
To reach the Palestinian neighborhood we had to cross over a several rows of busy railroad tracks. Tamer pointed out that the side of the tracks closest to the Jewish neighborhood has a wall to protect the people living near by, but there is no wall on the other side. Today there is gate and booth with guards at the place to cross, as well as a bridge, but they have only existed for 8 years. Before that residents would have to drive or run across as quickly as possible.
Once we crossed the tracks it was easy to see the stark differences between the neighborhoods. We stopped near a playground with a shade. There were very few people around. Most people seemed to have cars, and drove by. The playground was abandoned, and missing swings. Most of the houses where in poor condition, and had high walls. Some even had barbed wire and cameras. A few of the houses and walls where well kept, and even had green lawns. Tamer explained that the area has huge drug problems. People are unable to get permits to add on to their homes. About 60% of the homes have demolition warrants. 300 homes have already been demolished. The police for the town spend most of their time harassing children, and do not go after drug criminals. Education is poor in the area, and many families will choose to send their children to private schools run by Christian organizations.
On a positive note Tamer spoke about using art as a means of social activism, and to bring about change. Tamer is a hip hop artist, and one of the first to rap in Arabic. His group is called DAM which stands for Dabke on the Moon. His song Born Here helped to bring awareness of the problems in Lydd. It brought the town to mainstream channels, which led to the construction of the crossing gate, and bridge by the train tracks. Unfortunately the song did not bring an end to home demolitions.
Dam VIDEO of "Born Here" https://youtu.be/zIo6lyP9tTE

Video of Tamer from Chris Affleck:  https://www.youtube.com/watch?v=_lrb7NHOiHo
Originally posted here:
http://vegansagainsttheoccupation.com/2015/07/30/lod-lydd-art-as-activism-and-a-pride-parade/
---
 Jaffa Youth Movement & Boycott from Within | Amber Gilewski

We took a guided walking tour of Jaffa, a port city in Israel next to Tel Aviv. The city is 5,000 years old and before the Nakba in 1948 was the second largest city in Palestine. It's a beautiful city on the Mediterranean Sea. Not all is so beautiful about it though. Palestinians cannot buy new homes in Jaffa (as only Jews can). Palestinians are thought to bring the price of the property down, so contractors will not sell new construction to them. They can only buy homes secondhand.

While in Jaffa, we met with Amer from the Jaffa Youth Movement. He talked about the difficulties of life under occupation for youth and the goals of the Jaffa Youth Movement. Three main goals were to have Palestinian youth learn Arabic (many don't know it there as they are only taught Hebrew), promote Arab women's rights, and to take part in political activities.
Our next meeting in Jaffa was with Kobi Snitz from Boycott from Within, a collective inspired by the struggle of South Africans against apartheid to apply the same type of pressure to stop the oppression of Palestinians. They believe measures such as boycott, divestment, and sanctions are necessary steps to pressure the Israeli government to stop the occupation and to follow international law… He believed that BDS was the biggest strategic threat against Israel and that the army and secret service were monitoring those activities. This is called delegitimization of Israel. Kobi pointed out that "The left Zionist group will brag about opposing boycotts" and that the Israeli government believes that their "only hope to slow down BDS is to use the left."
Kobi also told us about Who Profits, Israeli activists who research Israeli companies who profit from the occupation. Ultimately, he said they call for a general boycott of Israeli products as the entire Israeli economy profits from the occupation. He noted that everyone in Israel believes the economy is hurting because of the boycott.
Another threatening tactic used by the Israeli government to suppress dissent is a website created for students to report their teachers who say anything considered to be anti-Israel, delegitimization, and/or insulting the honor of the army and soldiers. The left on campus has been pretty much decimated. Academics, even with tenure, are pushed out for speaking out about the government. The sense that there is no real academic freedom is disturbing to say the least and something that is intolerable in many academic institutions in the Western world. But again, we are told the lie that Israel is the "only democracy in the Middle East." The veil is coming down and more and more are realizing this to be untrue.      
The group with Amer in Jaffa

Video from Jacob Pace of Jaffa Youth Movement meeting: https://www.youtube.com/watch?v=i-W1AQIOxy8

Originally posted here: http://vegansagainsttheoccupation.com/2015/07/30/jaffa-youth-movement-boycott-from-within/
---
We invite delegation participants to comment on and react to the experiences they have during our Israel/Palestine delegations in written Trip Reports.

Individual delegates contribute pieces to these reports. As such, reports are not comprehensive accounts of every meeting or experience, but impressions of those things that most impact individuals. Submitted reports may be edited for clarity or brevity. Trip reports do not necessarily reflect the views of Interfaith Peace-Builders, trip leaders, or delegation partner organizations. We hope you enjoy reading and we encourage you to share these reports with others.
---

DONATE: Support IFPB in sending more trips


---

TRAVEL: Sign Up To Learn About Future Trips