< Reflection Five: The Stories We Bring Home
July-August 2015 Delegation to Palestine/Israel

Updates from the delegation:
Overview: In the final collection of reflections from the summer 2015 delegation, participants look back at the stories they will bring home.  Rev. Ron Werner Jr. invites members of the House of Representatives to the next IFPB delegation and reflects on what they may have missed on their AIPAC sponsored trip.  Joy Dworkin reflects on her experience at Lifta and Cindy Tanner writes about her first few days home.  Also included here is a compilation of photos from the trip by John Dworkin.
---
Dear Freshmen Members of the House of Representatives | Rev. Ron Werner Jr.
I'm sorry to have missed you!
Upon reading the newspaper this morning, I realized that we were in Israel/Palestine at the exact same time. For many of you, this was your first trip to the Holy Land. It was mine too. I understand that the purpose of your trip was to "see the region first hand and meet with key Israeli and Palestinian leaders."  It sounds like we had similar objectives— yet, we never ran into each other! I get the feeling we had two very different trips and I worry that your "first hand" experience might be limited to a perspective offered only by those funding your trip. While the leaders I met weren't all government officials, they did have first hand experience as people directly impacted by the lack of peace and justice in the region.
I missed you in Silwan, the Palestinian village just outside of the Old City in East Jerusalem. There, I met a group of teenagers who shared stories about life under occupation. As I climbed over the rubble of a recently demolished Palestinian home, I heard about the increased amount of Israeli settlers that are moving into the neighborhood. Many of these settlers believe that the land belongs to the Jewish people. They come with the help of subsidies and bring with them ideology, armed guards, and barbed wire.  
Like teens in the United States, they text on their cell phones, tell jokes, and wear Nike sneakers. Unlike most teens in the U.S., their future is uncertain. One boy had been arrested fifteen times since he was nine years old. Accused of throwing stones, he bore scars on his head after being dragged through the street by Israeli police. Another girl told us about her younger sister: she brings her toys to school because she is afraid her home might not be there when she gets back. Together, the teens recounted how a 14 year-old, Mohammed, was kidnapped in front of his home and burned alive by Israeli settlers one year ago. If he lived in the United States, he would have been a freshman. The resilience these teenagers exhibited was inspiring. When asked, "what do you want for your future?" They replied with one word, "freedom."
I missed you in Nablus, the ancient home to Jacob's Well where Palestinian Christians, Muslims, and Samaritan Jews live side by side. It was here that I visited and stayed in a refugee camp. I heard stories from young people who were now third generation refugees. When asked, "Where are you from?" They would reply with the name of a city they had never actually been to. "Jaffa" and "Haifa" were common answers. I met a man about my grandfather's age who told us that many families still have the keys to their house and deeds to their property. Because of the occupation, he has been living in a United Nations-run refugee camp since the early 1950's.   
You might have heard about this region because it was in the news this week. It's near the village of Duma, where an eighteen month-old baby named Ali and his father Sa'ad were killed after Israeli settlers firebombed their home. The boy's four year-old brother and mother are still in critical condition. I wish I could say this was an isolated incident, but I can't. The reality for Palestinian families is that Israeli settler violence is real. The United Nations reports that there have already been 120 cases in the West Bank since the beginning of 2015.  As a father with kids the same age, my heart heard the international call for an end to Israeli settlements in a new way this week.
I missed you in Bil'in, where 60% of the Palestinian land has been annexed by Israel and is home to the separation wall that has destroyed homes, olive groves, and lives. Though the International Court of Justice has deemed this wall illegal, it stands tall separating Palestinians and Israelis today. Along with a few people from the village, I walked at sunset to the sounds of construction up to a vista where I could see this separation at play. Our Palestinian friend Iyad pointed out the area where his grandfather's land used to be before it was swallowed up by the wall. On one side of the wall was an Israeli settlement that looked like a suburban-gated community. I saw beautiful red-pitched roofs being placed by construction workers and new paved roads being developed. It looked like a nice place to raise a family. 
On the other side of the wall, I saw freshly planted olive trees that were planted to replace the more mature trees destroyed by bulldozers. I saw flat-roofed homes with black barrels on top that held water reserves because on this side of the wall, the water was only available two days per week. I saw a playground, not unlike one I would take my daughters to back in Oregon that had been rebuilt after it was bulldozed once. Like many of the newer buildings, it had another demolition notice because it was built "illegally." On this side of the wall, it's almost impossible to get building permits. For families, this area is under constant threat of being razed.
It's easy to miss by design. With the help of USAID, miles and miles of roads were constructed to make it easier for us to bypass Palestinian villages. It's hard to even find a sign for these communities! With the help of military checkpoints and Israeli-only access roads, we can remain separate from the injustice that is occupation. Because your itinerary is being kept a secret, I wonder if your "first hand" look has bypassed the stories and cries of the Palestinian people. If this were the case, I'd love to invite you to be a part of the next Interfaith Peace Builders delegation.
It's estimated that the American Israel Public Affairs Committee (AIPAC) spent over one million dollars on your congressional delegation (about $18,000 per person).  While I can't promise that same kind of money, if you'll cover the airfare, I know some Palestinians with a soft mattress who would love to host you for tea, maqluba, and a few stories.
---


Tell Them that This is Our Land | Joy Dworkin
Wednesday we walked through the ruins of Lifta, a community that goes back at least to Roman times.  Lifta is one of 60 destroyed Palestinian localities documented so far by the Israeli NGO, Zochrot, which means "Remembering" in Hebrew.  This organization aims to introduce the Palestinian Nakba (catastrophe) to the Israeli-Jewish public, believing that acknowledging what happened at the beginning of the establishment of the state of Israel is essential to moving beyond the Israeli-Palestinian conflict.  Members of Zochrot interview members of displaced families, search in archives and among Ottoman records, etc.; they even have an app, iNakba, that you can download for free.  With 60 completed so far, Zochrot believes it has documented about a tenth of all the destroyed Palestinian localities (some "villages," some larger municipalities).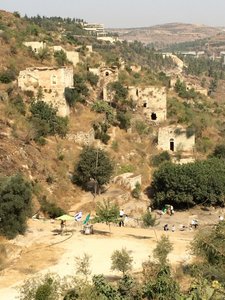 Our Zochrot guide pointed out the modern building on the site where the January 1948 Zionist attack in a coffee shop killed six people; he pointed to another building, constructed in 1929, a former school, and he explained that Lifta had been a wealthy place, covering a large area; Hebrew University, the Israeli Parliament, and the High Court are all partially on land that belonged to Lifta .  We walked downhill, to the remains of a mosque (dating to around the 12th century), an olive press, a home of a wealthy family (the top floor was added in the early 20th century, with modern tiles apparently from the 1940s), and down to three Roman-era linked pools that take advantage of a spring some believe is mentioned in the Tanakh.  
Kids were swimming and playing in one of the pools—probably including the Orthodox family that had passed us as we spoke on the hill.  Some had marked the picnic area with an Israeli flag.
The fantasy that Israel is "a land without a people for a people without a land" is based on the erasure of the 1948 presence of Palestinians.   Toward the beginning of our tour, before we walked downhill to the spring, a Palestinian construction worker called out to our guide in Arabic, "Tell them that this is our land!"  At the end of our tour, as we readied to leave Lifta, our guide struck up a conversation with two men who had been gathering plums—one of whom has apparently been working on a website about his destroyed village:  a new location for Zochrot to investigate, former Palestinian community #61!  Plums were generously passed out… They were not quite ripe yet, sour, and delicious.   
---
The Palestinians we met with were uniformly considerate, generous, and whip-smart. They taught us lesson after lesson. For some reason, since the first time I heard it, this song puts me in mind of the Palestinian struggle. It's by Kristina Train and it's titled "Call in the Maker."
---
Moral Obligation | Cindy Tanner
As I sit back in the comfort of my home and get back to my daily routines, it is hard for me to believe that a 15 hour plane ride away another world exists. 
In the few days since my return home, I have shared my experiences with a number of people. Most of them listen to me in utter disbelief. Then I show them pictures and explain that I have witnessed the mistreatment of Palestinians by Israel.  On the other hand when I ate lunch on Saturday at a Middle Eastern restaurant, the server was incredulous when I told him that I had been to Jenin and the refugee camps. He is from Jordan and has also been to Jenin. He knows the true story.  As I continue to try to educate others on the plight of the Palestinians, I hear the voices of several who said it is a moral obligation to go back to the USA and get the word out about the plight of the Palestinians. That is a statement I can't forget.
---
We invite delegation participants to comment on and react to the experiences they have during our Israel/Palestine delegations in written Trip Reports.

Individual delegates contribute pieces to these reports. As such, reports are not comprehensive accounts of every meeting or experience, but impressions of those things that most impact individuals. Submitted reports may be edited for clarity or brevity. Trip reports do not necessarily reflect the views of Interfaith Peace-Builders, trip leaders, or delegation partner organizations. We hope you enjoy reading and we encourage you to share these reports with others.
---

DONATE: Support IFPB in sending more trips


---

TRAVEL: Sign Up To Learn About Future Trips